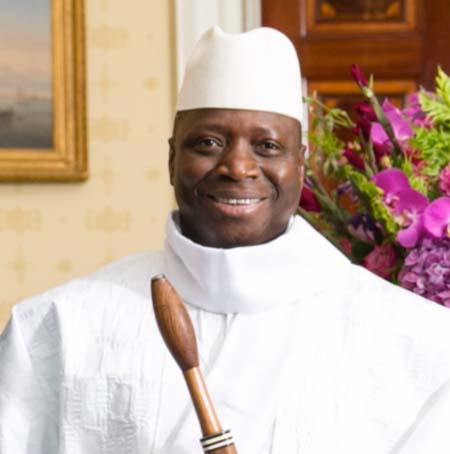 The incumbent, President Yahya Jammeh, has urged the electorates to make "sound judgments between empty promises of the opposition and the gains documented by my government".

According to a GRTS report, President Jammeh said the 1st December poll is an event between The Gambia and the realisation of the economic superpower status.
The standard bearer of the ruling APRC party, Jammeh, said the forthcoming poll is also an opportunity to sieve and extract "patriotic citizens from stooges of Western propaganda."
As part of his ongoing country-wide tour, Jammeh, one of the contestants in the forthcoming race to the State House, had a meeting in the villages of Bati Nyol and Niamina on Thursday.
He has promised a lot of development projects such as electricity, good roads and health facilities to Bati Nyol and other communities.
In Niamina, Jammeh paid glowing tribute to the women and young people of the region for their "strong devotion to God and fostering unity".
He praised the womenfolk in particular for their piety and dedication to Islam, encouraging them to be more steadfast.
Furthermore, the GRTS has reported that President Jammeh, on Saturday afternoon, arrived to a tumultuous welcome in the Upper River Region.
The incumbent and his entourage held mass rallies in Gambisara and Basse.
Addressing supporters at Gambisara, Jammeh reiterated that The Gambia will never succumb to western dictates for progress and prosperity, saying the development of the country rests in Allah's will.
He informed people of Gambisara that the government has already acquired funds for the extension of their newly-constructed road.
Speaking at Basse, Jammeh called for peace and order throughout the election period.
Read Other Articles In Article (Archive)