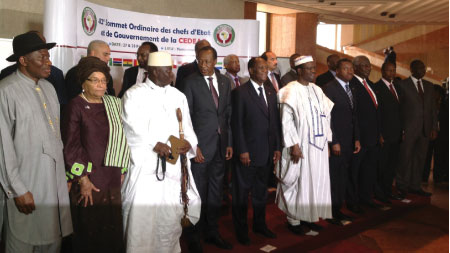 Leaders of the Economic Community of West African States (ECOWAS) are currently gathered in Yamoussoukro, Ivory Coast, for the 42nd ordinary summit of the regional bloc to discuss regional peace and security issues, including the situations in Mali and Guinea-Bissau, among others.
During the two-day meeting, which opened yesterday, the leaders including President Yahya Jammeh will consider a memorandum to be presented by ECOWAS Commission President Kadre Ouedraogo on developments in Mali, in the wake of ongoing military offensive against armed terrorist groups in the north of the country.
Speaking at the opening ceremony, President Alassane Ouattara of Cote dIvoire, who is also the current chairman of the Authority of ECOWAS heads of state and government welcomed his colleagues,and stressed the need for unity among ECOWAS leaders in their efforts to achieve the noble objectives of the regional-body.
In his statement, the President of the ECOWAS Commission, Kadre Desire Ouedraogo, urged ECOWAS leaders to work tirelessly to fast-track the achievement of what he descibed as a developed, integrated and competitive West Africa.
President Blaise Compaoré of Burkina Faso, the regional mediator in the Mali crisis, will also make a presentation to the summit, which was preceded by an emergency session of the ECOWAS Mediation and Security Council, which comprises foreign and defence ministers.
In addition, the summit will consider a presentation by the chairman of the Regional Contact Group, and report of the Mediation and Security Council meeting.
The regional leaders will also consider the report of the 69th ordinary session of the ECOWAS Council of Ministers held in December 2012 in Abidjan, which took important decisions, notably on the mechanism for enlarging the Commission from nine to twelve commissioners.
Some 25 non-ECOWAS member states from Africa, Europe and America as well as international institutions are expected to attend the summit.
Read Other Articles In Article (Archive)