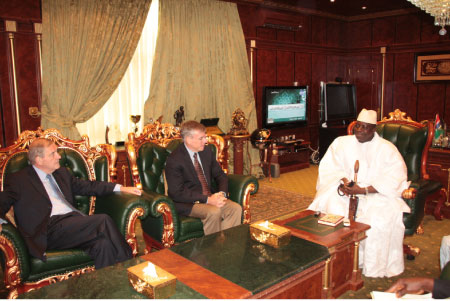 President Yahya Jammeh Thursday held talks with officials of a leading US manufacturing company specialised in agricultural machinery at a close-door session held at State House in Banjul.
The officials, led by David C. Everitt, president, Agriculture and Turf Division of John Deere Company, were at State House to meet and discuss with President Jammeh the importance of agricultural mechanisation, modern technology, training and the possibility of bringing agricultural mechanisation to the country.
The meeting followed the signing of an agreement in March this year between the Gambia government and John Deere in Banjul to supply agricultural mechanised equipment and maintenance of farm implements, among others.
Led by the minister of agriculture Mr Solomon Owens, David C. Everitt, who spoke to waiting reporters shortly after his discussion with the Gambian leader, expressed his company's readiness to invest in The Gambia starting in two weeks' time, with the first shipment of mechanised equipment to the country.
While lauding President Jammeh for his in-depth knowledge in agriculture, David said ensuring food self-sufficiency in the country is of paramount importance to its stability and its future.
"Partnership is key in view of the fact that the climate is changing rapidly, and the ability to have a sustainable and viable agricultural base is important for any country, especially The Gambia," he told reporters.
Len Brand, John Deere's managing director for Sub-Saharan Africa, told reporters that the first shipment of agricultural equipment is already on its way to the country, and that it is expected to arrive in two weeks' time.
According to him, the arrival of the equipment will be followed by the start of training the operators on how to utilise the equipment effectively.
Noting that other equipment will arrive towards the end of the year, Brand said the first consignment includes tractors, and implements for groundnut and corn production, to be followed by rice production as well.
He also disclosed plans by his company to bring in some irrigation equipment.
Read Other Articles In Article (Archive)