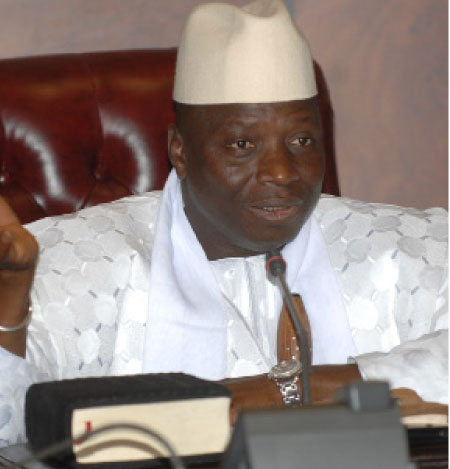 President Yahya Jammeh returned to Banjul Saturday from a state visit to Saudi Arabia, and declared that the outcome of the visit would be "fruitful".
According to President Jammeh, he was given a rare opportunity by the Saudi authorities to visit the kingdom, at the level of a state visit, and that this was the first time in his 20 years in power, that he was accorded the opportunity of such state visit to Saudi Arabia, adding: "others were just official visits".
"I don't want say its fruitful now, because we have not started implementing what we agreed; it becomes fruitful when the objective of the visit becomes manifest in the livelihood of Gambians, and in terms of infrastructure", and so on.
Come the time when Gambians could see things physically done, rather than just telling them now that this was going to be done, Jammeh asserted that "every Gambian would be grateful to Saudi Arabia".
He said they were welcomed in Riyadh, and told "we are in our second home; this was unprecedented. And so I can assure you that Gambians will stand to benefit from this visit".
He said, with regards to the private sector, "a lot more work needed to be done, but the groundwork has been done already".
There is little information about Africa, in general, especially West Africa, (available) to the (Saudi) private sector, and this information has been provided, according to Jammeh. "We plan more exchange visits.
My principle has always been, no matter what I tell you about The Gambia, visit the Gambia; you will see maybe what I have not seen, because (things seen) from the point of view of a businessman and a politician are different.
"So there is going to be a lot of activity, interaction between the Gambian private sector and the Saudi private sector".
"The future is very bright", Jammeh continued further declaring that, "this was one of the best visits".
"I think it can be compared to Turkey, where they also told us that we are at home, and everything that we asked them, we got approval for that thing…
"I want Gambians to see things physically being done, than just tell them that this and this is going to be done", Jammeh told reporters at the airport interview, and went on to assert that "every Gambian would be grateful to Saudi Arabia".
Read Other Articles In Article (Archive)