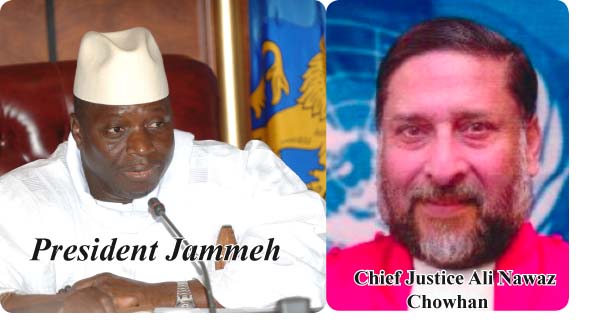 President Yahya Jammeh has been explaining the recent changes in the office of the Chief Justice and head of the country's third arm of government, the judiciary.
The occasion was the swearing in of a new Chief Justice of The Gambia, a Pakistani national Justice Ali Nawaz Chowhan, at a ceremony held at State House in Banjul on Thursday 6 March 2014.
Justice Emmanuel Fagbenle, the former acting chief justice, was also sworn in as the new president of The Gambia Court of Appeal, and Justice Oledi Uko Uduma as a judge of the High Court.
"I have no doubt in your ability and your integrity", Jammeh said, noting that Justice Chowhan worked for The Hague and was legal adviser to the president of Pakistan.
Before coming to The Gambia, Justice Ali Nawaz Chowhan served as a consultant on legal affairs, administrative law and international law for the President of Pakistan.
He was also alternate chairman of the UNESCO appeal board, and a visiting professor of law, and president of Punjab University Society of International Law.
He was elected international judge of the United Nations, by the UN General Assembly, and worked from 2006 to 2009 for the UN at The Hague in The Netherlands.
President Jammeh delivered a long his speech at the State House ceremony, in which he spelt out what he expects from officers of The Gambia's judiciary, as well as his views of judicial independence.
"Justice is universal, but constitutions are unique", he declared. "You are sworn in as Chief Justice of The Gambia to implement Gambian law. These laws are not promulgated by the President; they are promulgated by the people of The Gambia, so that every Gambian and anybody in this country would live according to the laws of this country; so that there will be peace and order in this country.
"The importance of every legal system", he added, "is to control the behaviour of every individual within that jurisdiction; and, that is why we have reward and punishment. Punishment to deter those who think they can do whatever they want against other people. This where the law is very important…
"So, what I want to emphasize is the fact that the laws of The Gambia are the laws of The Gambia. I don't care what anybody's opinion is about our laws or our judicial system. These are the laws promulgated by Gambians based on our beliefs; to make sure that all of us are regulated in the way we behave, so that my behaviour does not endanger the livelihood of others. That's the most important thing".
President Jammeh also expressed his views about judicial independence. "Most of the time, they say the judiciary is independent. There is no independent judiciary - it's not true that the judiciary is independent. The judiciary is independent in only one aspect – how you judge". He added that the judiciary is "part of the government, and so you cannot be independent of government".
"What government cannot do is dictate to you your judgment; what your judgment should do. This is where your independence is; apart from that, there is nowhere in the world where the judiciary is independent of government", he further stated.
There are countries that talk about interference (in the judiciary), yet (in these counties) the same people tell the judge what they want in a particular case, Jammeh continued. He said the prosecutor or the government "will say we will demand for the death penalty - that is normal. But if I say that in The Gambia, that for this particular case, we will demand the death penalty; Oh, its interference in the judicial system!"
Jammeh said he was emphasising this point because, "despite the fact that outside forces are talking about the judiciary being independent, they have no right to tell me how I should run my country; or how I should behave, because I'm not in their country".
"But at the same time, you see their embassies start to interfere in cases, talking to judges, trying to influence" them. They are not judges, not legal practitioners, and they sit down and tell you that this case is politically-motivated".
"That is why the former CJ is nowhere to be seen, because despite the fact that she was being appointed by us; interestingly enough, she was taking orders from elsewhere…a country, from an embassy whose country is hostile to our country; despite the fact that we are the one paying her salary.
"And that is where she had not handed over to Justice Fagbenle; because she disappeared. Nobody has seen her up to today".
President Jammeh said her life was not endangered; "we are not even taking her to court; we relieved her of her appointment…The moment she was told that she has been fired, that's the time she disappeared. She went to some church, and that's the end of it.
"But we know that she's being hidden by a particular embassy. We are not in a haste. Whatever happens, we will see the person; where she is, and we will deal with the embassy concerned; because this is unacceptable", Jammeh further declared.
He continued: "I think some people cannot accept the fact that we have been independent, so-called independent in 1965, but truly independent since July 22nd 1994, and we will never be colonised again.
"So, I just want you to understand that you have our support, I mean all of you, the judiciary; that you are working according to the laws of The Gambia. So nobody should tell you about the laws of The Gambia; what is right and what is not right. In fact, it is even an insult for a lay person to come and tell you, that this is what you should do. We look at their countries; what they do, and what they preach are two different stories.
"Yes, if you stand up and be independent, especially for a Muslim, you are a dictator. I'm proud of that title. I'm proud to be a dictator of development and liberation of my people, than a democrat that robs my people and plunge them into abject poverty…
"Democracy is not a coin that is minted by a particular country, and exported to others. Afterall, what is good governance? Good governance is the ability to serve your people…according to your religion and cultural values.
My government has been called so many names, and given so many titles that I'm proud of. I'm a dictator; violation of human rights; bad governance. But, you know, and facts and fiction; the beauty of fiction is that it's so intriguing, but you never lay hands on it. The beauty of facts, it's so blatant, that you can never deny it…
"So, I just want you to understand that there is nowhere in the world where the judiciary is independent. The judiciary is only independent in the judgment of cases; in treating cases…but we pay your salary, we appoint you, and you are part of the government - how can you be independent? This is what I want to buttress.
"So I want to assure you that we will not interfere in judgment of your cases, because I want to make sure that any judgment, that has to be implemented, I can implement and go and sleep, knowing that justice is done. I want to assure you of that…do what is right and fear nobody; do what is wrong and be ready to face the consequences…"
President Jammeh said, as a believer, "I am very careful what I do as a head of state, knowing that tomorrow God will judge me; the people of The Gambia would judge me. That is why I don't interfere in the judicial system…
"We want to make sure that justice is done; that people are rewarded for their good deeds, and people are punished for their bad deeds, period!
"I don't care what they say; what I care about is what my people go through, the way my people see me. I want to make sure that Gambians live peacefully in this country…and that is why for security and justice, I will not compromise in this country", he declared.
Read Other Articles In Article (Archive)