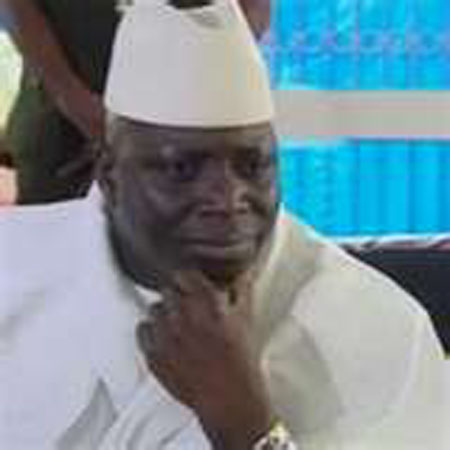 President Yahya Jammeh has again condemned the idea of homosexuality, stressing in a latest pronouncement that no form of aid would make him to accept or tolerate homosexuality in the country.
Jammeh, whose comments came weeks after 19 people including Gambians, a Senegalese and a Nigerian were arrested on suspicion of homosexual acts, and charged with two counts of attempts to commit unnatural offence and conspiracy to commit felony, was speaking Friday during the state opening of parliament.
"If you are to give us aid for men and men or for women and women to marry, leave it; we don't need your aid because, as long as I am the President of The Gambia, you will never see that happen in this country," Jammeh said.
Noting that Gambia will never be colonized or enslaved twice, tough-talking Jammeh said Gambia under his stewardship will never bow down to international pressure to allow what he referred to as ungodly practices in the name of human rights.
"One thing we will never compromise, for whatever reason, is the integrity of our culture, our dignity and our sovereignty," Jammeh told the gathering in Banjul attended by western diplomats.
"As a member of the international community, we would abide by the international conventions that we have signed, but as a country, we will pass legislation that will preserve our culture, our humanity, our dignity and our identity as Africans, West Africans and Gambians," he stated.
Jammeh, who has long drawn criticisms for his stance against homosexuality, said henceforth, legislations shall be effected to preserve the country's cultural norms and values.
"Sometimes you hear of a lot of noise about the laws of this country or my pronouncements; let me make it very clear that, if you want me to offend God for you to give me aid, you are making a great mistake; you will not bribe me to do what is evil and ungodly," he said.
He added: "I made it very clear, and I will make it very clear to this august body again that every country, every society, every culture has its own natural dos and dont's."
While urging members of the National Assembly not to compromise their roles as legislators and representatives of the people, the Gambia leader said national interest takes precedence over everything else.
Government plans for 2012
Outlining his government's plans and priorities for the year 2012, President Jammeh said the Gambia recorded a moderate and stable growth rate of 5 to 6% of GDP, for which agriculture remains the strongest driver, growing at an average rate of 7-9% per year.
However, he said, due to crop failure during the 2011 cropping seasons, the growth rate fell and tourism and residential construction were also hit hard by the global crisis.
He noted that the strong rebound in tourism that began in late 2011 helped to moderate the decline in overall GDP growth.
"The Integrated Financial Management Information System (IFMIS) has helped The Gambia computerize government's finance statement and implemented under the Public Financial Management reforms, has been successfully installed and rolled out to all ministries, departments and agencies," he stated.
In an advanced stage, he went on, is the major tax reform for the implementation of the Value Added Tax (VAT) in January 2013, which, he said, is expected to broaden the tax base, whilst strengthening the tax process.
On Trade, Industry, Regional Integration and Employment, President Jammeh said under the Enhanced Integrated Framework (EIF) program, Government has secured approval for a US$ 2.3M sector competitiveness and export diversification project, commencing in 2012.
"This project will establish a trade information system and provide support for quality enhancement in the groundnut and cashew sub-sectors and similar project proposals are currently being finalized with the EIF board in respect of the building of a cargo complex and the installation of a baggage scanner at Banjul International Airport," he stated.
According to President Jammeh, the government is working towards formulating a consumer protection legislation targeted for completion and presentation to the National Assembly during the second quarter of 2012.
When formulated, he stated, the consumer protection legislation will seek to address the issue of misleading advertisement, deceptive trade and practices and harmful product from the markets.
On Tourism and Culture, President Jammeh said given the significance of tourism to the country's GDP, government continues to strive to boost the tourism sector.
"The transformation of the Gambia Hotel School into a Tourism and Hospitality Institute is also well on course, following the passing of the Gambia Tourism and Hospitality Bill 2011 late last year by the National Assembly," Jammeh said.
He noted that in collaboration with the World Heritage Center at UNESCO, his government will continue to conserve the country's World Heritage sites in accordance with the international convention governing the world's natural and cultural heritage.
On agriculture, the Gambian leader said the main trust of his Government in this all-important sector is the attainment of not only food self-sufficiency, but becoming a major player in the agricultural export market.
Noting that the agriculture sector is one that has the greatest potential to provide employment for hundreds of people across all walks of life in The Gambia, the Gambian leader said his government is bent on eradicating poverty in the country.
"In this endeavor to achieve the above stated objectives, my Government through the Ministry of Agriculture and in collaboration with the Taiwanese Agricultural Mission is putting under rice cultivation about 400, 000 hectares over a period of five years that has started since the 2009," he said.
On Fisheries, the Gambian leader underscored his government's determination to ensure that the country's fisheries resources are utilized to generate employment opportunities for Gambians, provide income generating opportunities, food security and thereby contribute to poverty reduction.
"Through the intervention of the US$ 14 Million Gambia Artisanal Fisheries Development Project funded by the Gambia Government, African Development Bank (ADB) and Arab Bank for Economic Development, my government is providing a number of infrastructure facilities to operators within the fishery sector such as the fisheries port in Banjul (US$ 8.0 Million) and Bakoteh fish market US$ (5.67 Million) that are nearing in completion," President Jammeh stated.
On health and social welfare, Jammeh said his government is committed to the attainment of the health policy goals and objectives, which accord with the PAGE and MDGs targets and, in this direction, there have been tremendous improvements on physical access to health care due to the rapid expansion of health services to the communities.
He said under the Global Fund Health System Strengthening Grant Round 8, funding has been secured for local accelerated training of health workers and technicians in critical areas like laboratory, pharmacy, radiology, physiotherapy and biomedical equipment technicians.
In child protection, he said the Department of Social Welfare continues to enhance the protective environment for children in difficult circumstances through the setting up of 29 community child protection communities in some regions of the country for grassroots participation to effectively monitor the welfare of the children and create awareness for the prevention of abuse and exploitation of the children in risky situations.
On basic and secondary education, the Gambian leader said the revised education policy 2004-2015 is premised on the inextricable link between education and human development variables that can contribute to accelerated growth and employment from 2012-2015.
He told the gathering that during this legislative year, the task of improving the quality of teaching and learning will focus on new initiatives that have been tested and found to be effective in improving children's learning achievements, as evidenced by the annual national assessment tests and the bi-annual early grade reading assessments.
On higher education, research, science and technology, Jammeh said the ministry is formulating series of policies on higher education, technology and innovation, quality assurance framework and legislative framework for the establishment of institutions of higher learning in the country.
Read Other Articles In Article (Archive)