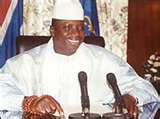 Gambians yesterday celebrated the 15th Anniversary of the July 22nd Revolution with President Jammeh, renewing his call for Gambians to discard their differences and work towards nation-building, irrespective of their political differences.
The celebration, which was graced by the Libyan leader and current Chairman of the African Union, Moamar Al Gaddafi, was characterised by a march-past by school children, security personnel, voluntary organisations and other groups.
He told thousands of people who thronged at the Arch 22in Banjul that unless Gambians change their attitudes, the country will develop but the people will remain poor.
"We should ask ourselves what is the difference between 1994 to date and 1994 back to the era of colonialism. This is the 21st century that would ensure that we are totally free and independent. But how do we develop ourselves? We have liberated ourselves from colonialism but we are under the worst form of slavery and that is poverty. How can we rid ourselves from poverty?" Jammeh reasoned.
According to President Jammeh, the reason for the celebration is to see how far we have gone and how far we have to go. "As Gambians, despite our political differences, we must work together because we have a common destiny. Let us disregard those who follow tribalism and work together and develop our country. For 15 years, how many countries have assisted the Gambia? he stated.
"The schools we built, the hospitals, the roads we are building. How many countries are assisting us? But among the international community also, we have our good friends, countries that stood by us through and are standing by us through thick and thin. We must always be grateful to those countries. If Gambia is the only developed country in Africa and the rest of Africa is backward, then we are all still very backward. We have to develop in tandem. But how do we develop as a continent? We have to look inward and work together," President Jammeh told his audience.
He said the revolution has come a long way but still there is 'longer and tougher' road to go, as he put it, he wants to make this country the best in the whole world not only in Africa. All these efforts, Jammeh stated "cannot be met unless we as Gambians and non- Gambians alike resident in this country contribute our individual and collective quotas to the development of this country".
"In 1994, when we came in to make this country the best in the world, we had only groundnuts and tourism to bank on and the Almighty Allah but 15 years today, we have petroleum and other natural mineral resources that I wouldn't announce now," he said.
For President Jammeh, development does not come from the sky, and thus called for attitudinal change, especially among the young ones.
 "Development of the countries with the so-called greener pastures did not come from the sky. The people of these countries have to work hard, endure low wages to make their countries what they are, even though some of them robbed Africa to be what they are today".
"How do you expect the Gambia to develop or Africa to develop if young Africans leave Africa and go to Europe to hustle? If you the young people leave the country, you expect your old parents and grandparents to develop it for you? No way. For us to develop this country, we have to work hard, some have to volunteer, some have to be paid but what is indispensable is the fact that we cannot develop without the participation of the Gambian youths. Let us change our attitudes", Jammeh further stated.
He said "During the colonial era, Europeans came to capture Africans and forced them into slavery; today we are independent but unfortunately young Africans risk their lives and find themselves into slavery in Europe. Tell me how many Gambians who went abroad have built good compounds in this Gambia. Why are you finding your way into mental slavery?"
 "Those who have a genuine reason to go can go but I want to assure you that 98% of you would come back poorer than when you live here. No matter how long you stay there, maybe one thing you will have, a wife older than your grand father," he asserted.
Jammeh is of the view that his government has created the enabling environment for development, but he stressed that only foreigners are benefiting from it.
"Look at the construction industry, 99% of the people in the construction industry are all foreigners," he stated, and then asked what the Gambian men are doing. He, however, stressed that one does not need to go to university to become a tailor or a carpenter.
He said "in as much as we want to eradicate poverty, with the attitude we have, we would not be able to eradicate poverty".
 "Four hundred years of colonialism, if those who were responsible for Africa did not develop the continent at that time and today when we are independent, if we expect them to develop our countries, we are making a great mistake", he noted, calling on Africans to work together to regain their lost glory.
Africa, he added, was the wealthiest continent before the advent of the white man for, as he put it, if it wasn't wealthy, they wouldn't have stayed for four hundred years.
 "Thanks to the Almighty Allah, despite all what have been taken away, Africa today is still the richest continent in terms of mineral resources. Unfortunately too, we are the poorest of the poor because of bad leadership and the wrong types of attitudes we have towards ourselves", he concluded.
Read Other Articles In Article (Archive)