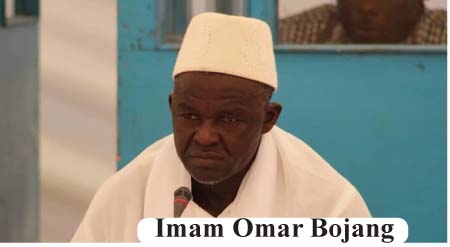 Omar Bojang, the imam of Jambur village has on Monday testified before the TRRC, giving accounts of how former president, Yahya Jammeh's witch-hunt activities stormed Jambur to the extent of detaining about 62 individuals, in 2009.

Born in Jambur in June 1961, Imam Bojang explained that in 2009 witch-hunt activities, he had two visitors from Casamance and one from Katong to pay their condolences because his mother had died.
He added that it was later that he heard some people drumming but he went to inform his father that Yahya Jammeh asked them to do some prayers for the village, and that he (father) was to lead the prayers.
"My father narrated that when he went to the place, they told him that they should go to the cemetery because they had to take something for the prayers. They went and slaughtered a red cock and goat. They buried the cock and performed their own rituals, and said anyone who plans to betray Jammeh will be cursed."
The witness continued that it was later that three people were seen dressed in red holding some horns arrived with Solo Bojang to his house. He said they went to his room and checked all over the place, on the grounds that they were looking for something.
"They reached my bathroom and called me. They saw some jujus and asked whether I do some juju works. They said I was the cause for no progress of the youths in the village. They asked me to go with them to the Bantaba. As we were going, they met my visitors and took them along because they said I called them to prepare some jujus to end Jammeh's government."
Imam Bojang said upon arrival at the Bantaba, they were asked to sit on the ground, while they went to capture some 62 individuals who were residents of the village.
He added that his father Imam Karamo Bojang and younger brothers Arafang Bojang, Yaya Bojang and Yarakna Bojang were also captured, adding that it was around 3 p.m. that they sat on the ground till 5 p.m.
He said upon arrival at Kololi, they were asked to make a line. He said that when he entered the room, he found soldiers with guns and some men dressed in reds with some concoction. He added that he was asked to drink and as he attempted to remove a grass from it, he was militated.
"They asked me to remove my clothes and they washed me with their water. They later took us to a big room and asked us to sit on a tile, and after 5 minutes, I became unconscious. It was the following day that they held my hand and took me in a vehicle," he said, adding that he could not remember anything other than that.
He continued that his one eye got a problem as a result of the incident, while adding that one of his visitors from Casamance died after the incident.
Explaining his 2001 election ordeal, Imam Bojang explained that it was during a particular night, while he was relaxing at the Bantaba, the green boys came and started beating them. He said the one that led them was called Lanluwa Conteh from Faraba.
He disclosed that he reported the matter to Brikama Police Station, but nothing came out of it.
"According to what I think, those were green boys and whatever they did was for the service of the president. At that time, anyone that didn't support Jammeh will always be in trouble. There was a time I was insulted by someone and nothing came out of politics."
On his concluding remarks, Imam Bojang called for unity and togetherness to build a better country for all.
Read Other Articles In Article (Archive)