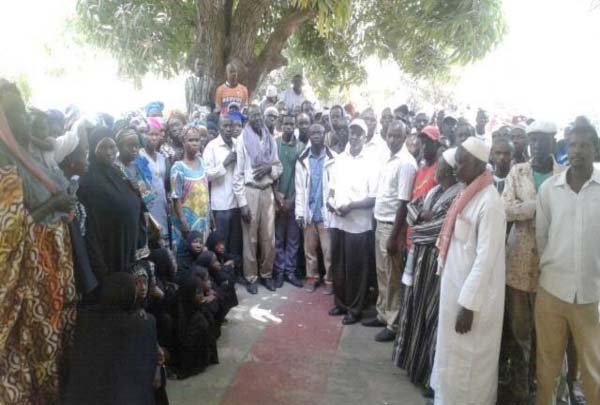 Some natives of Jalanbang village in West Coast Region have expressed displeasure with the appointment of the former village alkalo, Lamin Jatta commonly known as Mondo, as the new alkalo.

Mondo was removed by former president Yahya Jammeh as the alkalo but the new the Minister of Lands and Regional Government has reinstated him to the displeasure of some section of the village.
The displeased villagers on Thursday went to office of the Ministry of Lands and Regional Government in Banjul to officially make their grievance known to the minister with a view to reverse his decision.
The opponents of Mondo want the onetime alkalo, Ebrima Bah, to be appointed as the village alkalo because "they are the founders of Jalanbang village".
"The era of imposing alkalolou on villagers has past, we are now in an era of democratic dispensation," the angry villagers told journalists. "We want the minister [of Lands and Regional Government] to reverse his decision before the situation goes out of hand, or let the government allow us to vote and elect the person we want as the alkalo."
Ebrima Bah, a native of Jalanbang, said the action of the minister's dismissal of Ebrima Bah "is unacceptable".
"We are now enjoying a new democratic dispensation, so we want the government, including the minister to know that the era of imposing alkalolou on communities is over," he said.
"As people of Jalanbang, we are also going to write to the minister telling him that we trust Ebrima Bah and moreover he is a native of Jalanbang and his family owns the village, his grandparents are the first settlers of the village."
The former village alkalo, Ebrima Bah, himself, said the village was founded by his grandfather who ruled for 36 years and later his father (the father of Ebrima) took up the leadership of the village.
"When Lamin Jatta was removed as alkalo after the election, the villagers called a meeting and unanimously agreed that the village should be given back to its founder and that's why I was appointed as alkalo by the Jalanbang people," he explained.
"When I received my dismissal letter from the deputy governor of West Coast Region, I informed my villagers about it but they said they don't want Lamin Jatta as their alkalo."
Read Other Articles In Article (Archive)