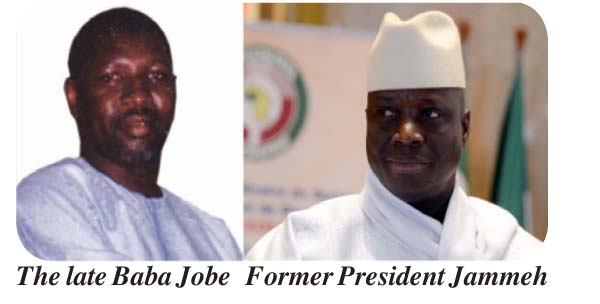 Since the buying of Daily Observer by Amadou Samba, the real ownership of the newspaper has been a puzzle. Mr Samba is a prominent businessman and lawyer who was one of the staunch supporters of the government of former President Yahya Jammeh.

The Daily Observer was originally established by Kennet Best, a Liberian journalist who sought refuge in The Gambia at the height of the Liberian war. The newspaper was launched on 11 May 1992 as the first daily newspaper in The Gambia.
According to records, on 10 May 1999, Mr Samba bought the newspaper for D1 million and in the same year, the Liberian owner of the paper was deported back to Liberia as the relationship between him and the military junta that took over the country in 1994 was soured.
Mr Samba became the publisher of the newspaper until 1 August 2002 when he made ownership transfer to the late Baba Jobe, a renowned politician during Jammeh's regime who died in custody in 2012. Baba was one of the strongest executive members of the former ruling APRC party.
According to family sources, the Daily Observer still legally belongs to the late Baba Jobe and all the necessary documents of the ownership are with the Jobe family.
However, the family said they do not know anything about the financial issues and management of the newspaper.
According to government sources, for several years, all the editors-in-chief and managing directors of the Daily Observer were appointed by former President Jammeh and he is also said to be the owner of the current office of the newspaper.
During the 22 years of Mr Jammeh, the newspaper had a lot of privileges and apparently, one of it was them was non-payment of tax with impunity.
It should be noted that for several years, the name of the publisher has been on the back page of the newspaper, as required by the Newspaper Act.
The act requires that the name of the publisher(s) and editor-in-chief be written on the back page of every newspaper and for every edition.
On Wednesday, Daily Observer was ordered by the Gambia Revenue Authority (GRA) to close down for two weeks.
The temporarily closure was as a result of the newspaper's non-compliance with its tax obligations.
A GRA source said the newspaper owed more than D17 million in accumulated tax arrears as it had not been paying tax for the past several years. The revenue authority also said it needs to know who really owns Observer for future dealings with the company.
Read Other Articles In Article (Archive)