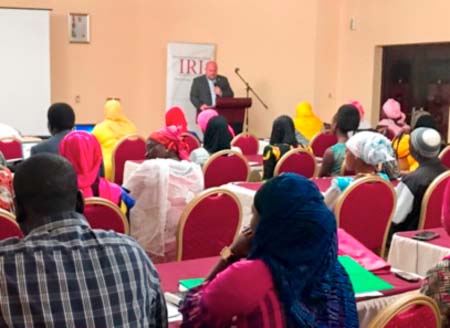 The International Republican Institute (IRI) commenced a three-day training workshop for youth and women in civil society organisations reforms agenda in The Gambia.

Held at the Ocean Bay Hotel conference hall, the workshop aimed to sensitize women and youth to be given the right tools and information to help them in strengthening civil education and democratic culture.
Speaking at the opening ceremony, the American Ambassador in The Gambia, Madam Alsup, said that under the new administration of President Adama Barrow every Gambian has the responsibility to intensity the process of self-development, which is also a civic development.
She stated that civic development requires strong moral character, personal integrity and commitment to democratic ideals such as transparency, accountability, honesty and placing the good of the whole community above personal or family gain.
She thanked and congratulated the International Republican Institute for their commitment in promoting democratic ideals worldwide and particularly for their efforts in The Gambia.
For his part, the International Republican Institute for African Regional Director, John G. Tomaszewski, said that what The Gambia has achieved was not just historic for Gambia, but for Africa's movement towards stronger and more citizen-centered democracy.
"For 22 years, the Gambian people yearned to live in a country where our diverse tribes will be bridged by tolerance and our determination to work together for common good," he said.
He said that The Gambia has changed for forever, saying the people are fully conscious that they could put a government in office as well as remove it.
Hon. Muhammad Ndow, Member of Parliament for Banjul Central advice the participants to take the training seriously and to share what they have learned with the society and to create awareness in taking part in national development.
Read Other Articles In Article (Archive)