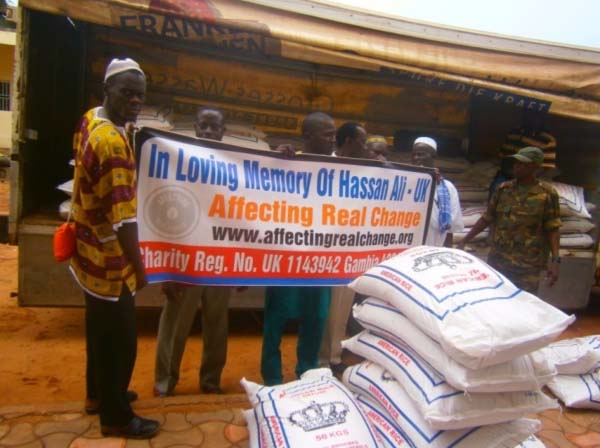 Affecting Real Change, a Gambia-based UK charity organisation, Thursday donated 165 50kg bags of rice to various poor and needy Muslim communities across The Gambia.
The presentation of the bags of rice was held at the Gambia Supreme Islamic Council complex in Kanifing.
Musa Saidy, secretary general of Affecting Real Change, said the organisation is registered both in the UK and The Gambia. It started operation in The Gambia in 2002.
He said the main collaborators of the charity organisation in The Gambia are the Ministry of Education and the Ministry of Health.
Mr Saidy said Affecting Real Change specialises in bringing volunteers mainly from the UK to The Gambia to work with different communities in different areas of need.
"Since 2002, we have brought more than three thousand volunteers from the UK," secretary general said.
The year 2013 was the first time the organisation brought Muslims as part of their volunteers to The Gambia.The leader of the group was called Nassiru Hussein.
"When he came, he was surprised to know that 95 per cent of the population of The Gambia is Muslim.He told us that if the non-Muslims volunteers of Affecting Real Change are able to help Muslims here [in The Gambia], what about we who are Muslims in the UK?We have the same status with them (non-Muslim volunteers)," Mr Saidy recalled.
This was how Affecting Real Change decided to take up the initiative to also extend a special help to Muslims in The Gambia through the help of Muslim volunteers.
The secretary general said the donation of the bags of rice was meant to be distributed among needy and less privileged Gambian Muslims.
"The beneficiaries are coming from all the regions but why we chose Supreme Islamic Council as the distribution centre is to ensure that everything is transparent," Mr Saidy said.
The council will oversee the distribution to see that each bag of rice goes to the right beneficiaries who are selected by their villages or communities, he explained.
The donation was done in memory of Hassan Ali, a British citizen who was a good friend to Nassir Hussein.
"Ali passed away few months ago, so we decided to do a fundraising campaign in his name to generate funds to buy food aid for the poor and the needy in The Gambia," the SG of Affecting Real Change said.
One after the other, many of the beneficiaries took turn to praise the donors for the worthwhile gesture.
Read Other Articles In Article (Archive)