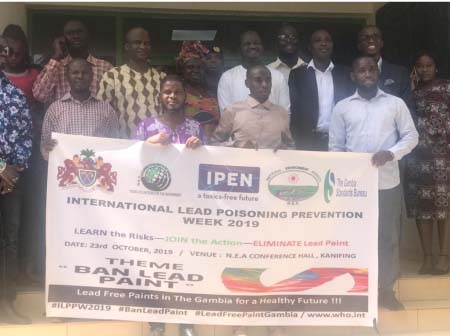 Young Volunteers for the Environment (YVE) -The Gambia, in partnership with International POPs Elimination Network (IPEN) and the National Environment Agency (NEA), last week observed international lead poisoning week at the NEA office in Kanifing.

Between 2017 and 2018, the partners conducted a research on the content of lead in solvent-based paints for home use in The Gambia, following several campaigns for the ban of the paints into the country.
Dodou Trawally, NEA Executive Director said they are mandated to regulate matters of environment protection and initiate the formulation of laws and regulations related to environmental protection. He said some of those laws are already established in some institutions to implement government policies in that regard.
Board Chairperson of Young Volunteers for the Environment(YVE), Isatou Ndow said as part of their efforts in the awareness raising, YVE-The Gambia in partnership with NEA conducted a country survey on lead in solvent-based paints for home use in The Gambia in December 2017, with support from IPEN.
She said during the survey, a total of 39 cans of solvent-based paint intended for home use, representing 11 brands produced by the same number of manufacturers from various stores in Kanifing to Basse were purchased. "Samples from these paints were analyzed by an accredited laboratory in the USA for lead content."
She added that as they continue to engage for a cleaner and healthier Gambia, they count on the commitment of the government to immediately draft a regulation that will be added to the existing Hazardous Chemical and Pesticides Management Act to ban the manufacture, import, export, distribution, sale and use of paints that contain total lead concentrations exceeding 90 ppm.
Joe Bonjay, Executive Director for Young Volunteers for the Environment said the international lead poisoning week is a WHO initiative that was established about 67years back to commit governments to look at issues of lead chemicals mostly found in different
paints and batteries, among others. "For this particular week, we are focusing on lead in paint which annually is held from 20th-26th of October."
He said they work with relevant concern stakeholders that are responsible for standard, health, policies and laws, saying they face some challenges like the issue of information which is lacking in The Gambia.
The international lead poisoning week is to raise awareness among countries and also to raise awareness on relevant government stakeholders to see how best we work as a country to look into issues and look at the effects of this harmful chemicals and how dangerous it is to human beings.
Read Other Articles In Article (Archive)