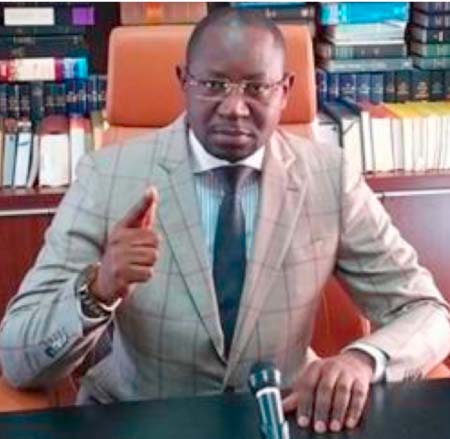 The Interior minister, Mai Ahmed Fatty, has cautioned those responsible for giving out national identity in The Gambia.

He added that "whether you are an Alkalo, or chief, National Assembly Member, or you work at the National Medical Department, you have to make sure the person you are giving the document to is a bona fide citizen of The Gambia".
Hon. Fatty further stated that the Ministry of Interior will not hesitate to exert the full extent of the law against those individuals found wanting. "If you are an Alkalo you will be removed, if you are a lawmaker the relevant law for you will be to face the consequences," he said.
He stressed that there are people out there who want to access to Gambian passports and that it is important to maintain the integrity of our national documents.
He added that some people detained outside the country in possession of Gambian passports are drug dealers, which damages the image of the country.
He made this remark yesterday during his familiarization tour and visit to the Biometric Department responsible for issuance of passport, at their headquarters in Banjul.
"The vision of the government is to produce one type of passport but now we have two machines," he said. "The biometric type has different requirements. For this new government nothing but the best and we will go for the highest biometric passport production."
The Interior minister has also resumed the issuance of passports barely 2 months after a ban was officially placed on it.
A statement released today stated that documents supplied to get any national document will be scrutinised to ensure the process is not fraudulent.
The following is the press release:
The Ministry of Interior hereby informs the General Public about the resumption of issuance of Machine Readable Passports strictly along the following guidelines and requirements:
First-time passport applicants within The Gambia are encouraged to apply for the Biometric Passport for which personal appearance is required.
Requirements for Replacement of Lost or Expired Machine Readable Passports (Not Biometric) by those living in the Diaspora requires Personal Appearance at the nearest Gambian Embassy or Consulate with relevant supporting documents (Old documents that show correct name, date and place of birth, picture and signature of applicant)
In case applicant resides in a country where there is no Gambian Embassy or Consulate:
Notarized Affidavit of proof of Citizenship submitted on behalf of the applicant.
The Identity declaration completed by a national assembly member of the applicant's constituency and accompanied by an endorsed photograph signed by the same person.
Original and photocopy of first and last page of expired passport or any other national document (If available)
REQUIREMENTS FOR REPLACEMENT OF LOST PASSPORTS:
Submit Notarized Affidavit of Loss (with detailed explanation on when, where and how passport got lost).
If the lost passport is still valid, submit Police Report.
Photocopy of first page and last page of lost passport (if available)
In order to protect Gambian travelers and to restore the integrity of our vital national identity documents, all supporting documents, for example, Birth Certificates will be subject to further verification with the office of the registrar of Births at the Ministry of Health and Social Welfare. These measures are taken to avert fraudulent acquisition of Gambian passports and to ensure that our national documents are obtained through legal sources.
Please take note that there could be a 30-day clearing period prior to the processing of a new application or for replacement of expired or lost valid passport unless it is absolutely urgent and necessary.
Read Other Articles In Article (Archive)