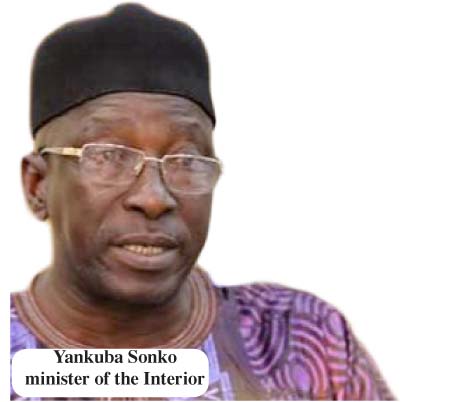 The minister of the Interior has assured that members of Operation 3 Years Jotna will be issued a permit to protest in December, saying that the country is a democratic state.

"Surely, a permit will be issued to them. This is a democratic government and that if people want to go on peaceful protest; we will surely allow them to go on the peaceful protest. What I have seen is that they are not people that will create problem in the country. They appear to be very peaceful and all what they are talking about is making peace, and that their protest is going to be peaceful and they will be responsible in their protest," Yankuba Sonko said.
The 3 Years Jotna is a movement that is calling on President Barrow to respect the 2016 Coalition Agreement by resigning at the end of his three years.
However, the Interior Minister Sonko who was speaking to the Fatou Network shortly after his meeting with members of 3 Years Jotna at his office last week said: "The issue of the three years has been going on and there was no dialogue between them. There's an individual who is mediating between the government and the 3 Years Jotna people so that's why we are having the meeting."
Minister Sonko described the meeting as 'very successful,' saying they discussed lots of issues concerning the December protest. "Therefore, as minister responsible for internal security, the issue of the protest is my concern and we have to deal with it. They have applied for the permit and the permit is under consideration."
"There are certain issues that we think are important for members of 3 Years Jotna to highlight," he said, adding that it ranges from the starting and end point of the protest.
On the issue of the water cannons, he said, it's not meant for 3 Years Jotna. "Since I was IGP, there were series of plan to get all these equipment. These are equipment that we were struggling to get since 2010. I can tell you that it has nothing to do with the planned protest."
Haji Sawaneh, the spokesperson of 3 Years Jotna said the discussion centred mainly on the issue of the permit. "We had series of meetings with the IGP, so today he decided to call his other colleagues so that we could discuss the issue of the permit. I am confident that the permit will be given to us.
"It is our right to protest and the police can't deny us that right," he said.
President Adama Barrow, he went on, should resign and go back to his business as he stated earlier, knowing that people have lost confidence in him.
"So I believe if Adama Barrow respects his integrity, he should go."
Read Other Articles In Article (Archive)