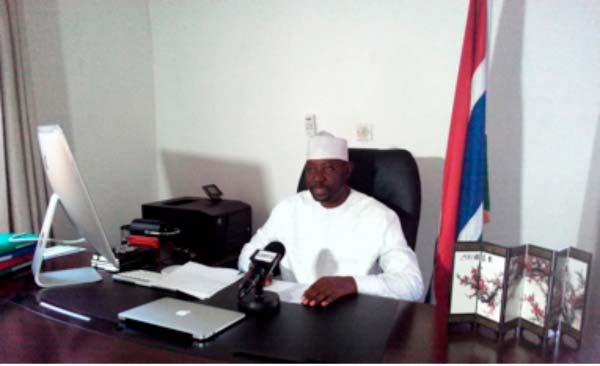 The Minister of Interior has told members of the National Assembly that based on the advice of a technical committee after series of meetings, the ministry would like to renegotiate the passport and ID cards contract with SEMLEX.

In response to Samba Jallow, Minority leader and member for Niamina Dankunku, Minister Fatty explained that on the 18th February 2016, a presentation was made by SEMLEX Europe at the Office of the President, to a taskforce comprising the deputy secretary general, and various stakeholders such as Ministry of Interior, Communication, Trade, CEO of GIEPA and technical staff under the aforementioned institutions that form part of the committee.
He added that following the submission of Ministerial Task Force's report, executive approval was granted, and the contract was signed with SEMLEX in April 2016. "Two months later, the Ministry received an Executive Directive to terminate the said contract without any justification, contrary to the legal advice of the Ministry of Justice," Fatty explained, proving all those transactions were done under the Jammeh regime.
Fatty pointed out that in the interim, the Interior Ministry awarded a temporal contract to MSTE trading to produce non-biometric ID cards. "However, due to inadequate control measures, the issuance was compromised, thus allowing ineligible applicants 'possess our national document….' This falls within the framework of my Ministry's ambitious effort to protect the integrity of our national documents, by making digital accuracy and enhanced-security of ID documents a key priority," he said.
Minister Fatty assured that there are no longer restrictions on the issuance of passports. Anyone who is qualified can apply and be issued with biometric passports. For the machine readable passports, he said the measures in place are intended to make the procedure more effective.
Fatty said Africard was the company contracted for the production of Biometric passport in 2014.The contract was for a ten year period to build, operate and transfer BOT contract, at the expiry of which government will open the entire infrastructure.
He said the technical committee will continue to supervise the execution according to the contract agreement.
Read Other Articles In Article (Archive)