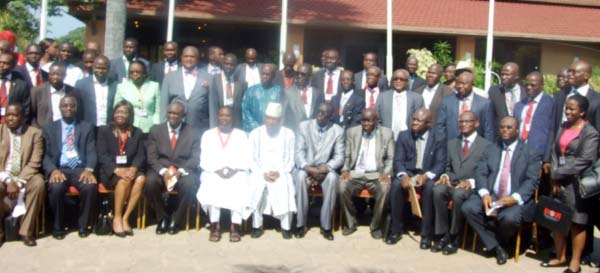 About 150 insurance practitioners from West Africa are meeting in Banjul to discuss ways and means of further growing the industry, through indigenisation and reaching out to the grassroots with insurance policies.
The delegates, mainly from Ghana, Nigeria, Liberia, Sierra Leone and The Gambia, are brainstorming on the theme: 'Africa rising: The indigenisation of insurance in West Africa'.
It is the annual educational conference of the West African Insurance Companies Association (WAICA), 8 - 9 November 2015, at a local hotel in Kololi.
The rotating conference is being hosted by the Insurance Association of The Gambia, the umbrella body of insurance companies in the country.
Speaking on the occasion, Governor Amadou Colley of the Central Bank of The Gambia (CBG), said an African insurance renaissance is possible, but only if the aspirations of the insurance practitioners are not circumscribed by the old excuses.
Excuses of the industry's lacklustre performance, such as lack of awareness attributed to illiteracy and religious beliefs interfering with sales should be no more.
"Africans are becoming more literate and many know the advantages of insurance.And religion is no barrier either.The success of Takaful Insurance debunks the notion of religion being an obstacle," Governor Colley said in a statement read on his behalf by the first deputy governor, Basiru Njai.
"True, we cannot change things overnight, but we can honestly resolve to do what must be done while setting off in a new direction that we seek for Africa," he added.
Despite progress in so many fronts, Africa's institutional drivers of long-term growth, especially insurance, are underdeveloped.
Insurance penetration in Africa remains low with several countries at less than 1 per cent.Statistics has it that only seven African countries have a penetration rate exceeding 2 per cent.In addition, spending on insurance by Africans averaged US$65 compared to the global average of US$627 in 2010.
The Central Bank Governor said no country has ever marched out of poverty without a strong indigenous private sector.
"The logic is simple.If we do not invest in Africa, others would hesitate to do so," he said.
"They would want to see our success stories before they invest.We could and must transform the insurance industry.Not alone, but we would lead and others would follow."
Governor Colley noted that although the insurance industry is full of promise in Africa, the industry should and must not be developed using existing approaches.
"Given the embryonic state of insurance in Africa, we have no choice but to leapfrog the branch-based age using technology, especially mobile technology," he said.
"We also have to do everything possible to bury the seemingly entrenched perception in some quarters that the industry is good at collecting premiums and poor at paying claims."
WAICA president Ivan Avereyireh said it was time for West Africa to build stronger insurance institutions from within.
He called on shareholders of insurance companies to allow for a significant increase of their company's paid up capital.
"This would make their companies become financially stronger and be in a position to take on more and bigger risks for their own account and, as such, retain more premiums," said Mr Avereyireh, who is also the president of Ghana Insurers Association.
"It is time we stopped resisting attempts at increasing levels of minimum capitals by our supervisory authorities, and worked towards forging sound financial relationships that will allow for inflow of capital by local means."
Also, he said in a bid to accentuate 'the Africa Rising agenda', insurance companies ought to cede more business to re-insurance companies within the sub-region.
"That [re-insurance companies in West Africa] should be fully utilised before seeking for support outside the sub-region," the WAICA president said.
Ambassador Soulayman Daramy of Serra Leone to The Gambia said everyone is anxious to develop themselves and promote their interest in the current dispensation.
He said it is only when people realise and work in that direction that progress will come to West Africa.
"West Africa has made great strides in various spheres of life, and it is pleasing to note that the insurance industry has been an integral part of our development efforts," Ambassador Daramy said on behalf of the Sierra Leonean president Ernest Bai Koroma, himself an insurance professional.
The president of the Insurance Association of The Gambia, Almami B. Jobarteh, said indigenisation is one of the mechanisms by which governments may seek to achieve economic empowerment.
"It has been proven to be one of the most popular measures of implementation of economic empowerment to the previously disadvantaged ones," he said.
Indigenization will be looked at in two perspectives during the two-day educational conference.One area is the pros and cons of legislation and regulation of indigenization; and the other one is the reaching out to the unreached, the grassroots through micro insurance.
By the end of the conference, the delegates are expected to learn enough that they can implement in their respective countries for the development of their insurance market.
Read Other Articles In Article (Archive)