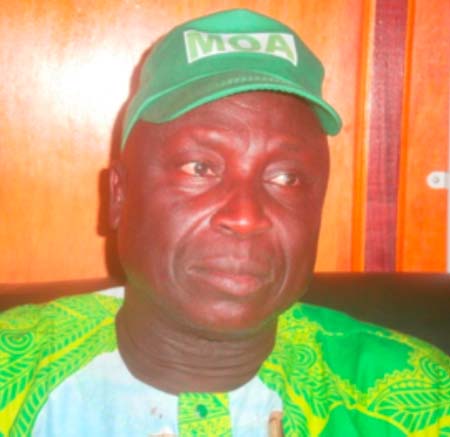 The Director General of The Gambia Livestock Marketing Agency (GLMA), Chief Bakary Dembo Badjie, has said inflation of the CFA should not warrant the livestock dealers to increase prices of animals during the Tobaski ram sale.
The rapid inflation of the CFA by "some unscrupulous people" is not an excuse, and should not warrant the livestock dealers to use it as a tool to increase the price of animals, he said.
The GLMA DG was speaking to The Point on Monday in his office at Abuko as the Tobaski feast is fast approaching.
He said overpricing of animals is a civilised way of denying the less-privileged to have access to meat.
He called on the need for Gambian livestock dealers to respect the Gambian currency, and should not de-value the dalasi over the CFA.
As Muslims, dealers should be very reasonable in pricing their animals, and should not be only after profit-making, as affordability by the average Gambian is key during the Tobaski feast, he further stated.
The GLMA DG spoke of their institution's readiness in coordinating the Tobaski ram sales at Abuko abattoir, adding that the coordination of the Tobaski ram sale is a collective responsibility by all players to ensure that "we have a successful Tobaski ram sale" at reasonable prices .
He revealed that all players recently had a meeting with the Ministry of Trade, and the purpose was to discuss issues affecting the market and carve the way forward for a better market for the forthcoming Tobaski feast.
He, however, said that some of the problems usually arise when such feasts are approaching, adding that people should endeavour to change their attitude towards the Tobaski ram sale.
He said as Muslims "we should help each other" so that everybody would be able to have enough meat for his family at a reasonable price.
He said the solution to the high pricing of ram during Tobaski is for Gambians to start rearing animals at their backyard.
Responding to some of the concerns raised by the dealers, such as taxation, overcharging of drivers for transportation, delays at the ferry crossing and checkpoints, as well as documentation, the GLMA DG said the Ministry of Trade is working very hard to ensure that those issues should be a thing of the past.
He also advised the butchers to be honest in weighing their meat during the feast, noting that "whatever you do, you will be accountable for your deed".
Read Other Articles In Article (Archive)