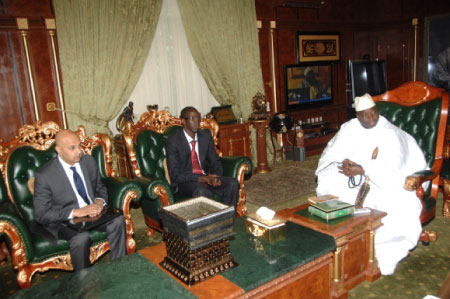 The Chief Executive Officer of Infini Africa Group, software development and engineering company, yesterday met with President Yahya Jammeh at State House in Banjul.
Nadeem Khan was at State House to brief President Jammeh on his company's plans and seek the President's blessing on the proposed establishment of a trade zone in The Gambia.
Speaking to waiting reporters shortly after a closed-door meeting with President Jammeh, Nadim said the President has given them the go-ahead to establish a trade zone in The Gambia.
'We are a company which is specialized in establishing trade zones, and we are going to establish an outsourcing hub for Africa which is going to service the whole of the West African region and, in fact, the whole of the African market,' he told reporters.
According to him, his company serves as one of the largest software developers, and specialized in outsourcing for both corporate and government institutions.
'We are very pleased and honoured that the President has given us the permission to establish a substantial hub in The Gambia,' he added.
Nadim further told journalists that now that the President has given them the go-ahead, they have engineers on their way to actually start the implementation phase.
'The group is a global group based in many countries in the world, including India, Pakistan, Hong Kong, London and the United States,' he announced.
On employment creation, he said, the company is intending to employ over the next seven years a hundred thousand persons in the actual city they are going to be establishing in the trade zone.
Read Other Articles In Article (Archive)