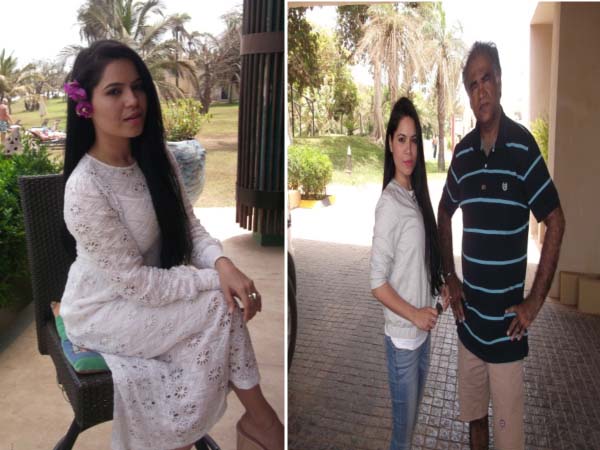 Rekha Rana, Indian Bollywood icon actress, and her producer and director, Kumar Raj, recently visited The Gambia, for the first time, on the invitation of the Indian community in the country.
Rana told The Point her three-day visit was made possible sooner than later because she was invited while already in West Africa for the shooting of her upcoming Bollywood movie, titled 'YahanAmeenaBikiHai'.
The young actress has performed in more than 175 shows in India within the past six years that she has been in Bollywood.
While in The Gambia, Rana and her producer had the opportunity of witnessing local cultural shows and interacting with some government officials and Indians in The Gambia.
The Indian actress said she was very happy to be in The Gambia while showering praises on the Gambian leader, Yahya Jammeh, who she described as "a dynamic leader".
The Indian actress said her love and appreciation of people has won her, in part, many accolades including being an ambassador for a South African NGO.
She said: "I am working towards a lot of recognitions through lots of good works… I want to do something good which my children and family are proud of and which is beneficial to people."
Rana's producer and director, Kumar Raj, said two of his movies – 'Tara the Journey of Love and Passion, and AbHegaDharna Unlimited' – were recently nominated for an Oscar Award in Togo.
Raj, who has produced four movies, said it takes him just nine months to complete a quality movie whereas it could take some producers one to two years.
The Indian movie director said: "I am happy with what I am doing as a producer and director.I have proved so many people wrong by making a big success in Bollywood."
He said it does not matter how many people are behind the scene of a movie, but the message sent on the screen is what matters to audience.
He said he has seen huge opportunities in The Gambia in terms of filmmaking and that he would like to be helping the Gambia government to develop the country's film industry in the best way possible.
Raj, a ship captain by profession, said: "I want to leave a legacy in the movie industry that my children would be proud of when I am gone."
Read Other Articles In Article (Archive)