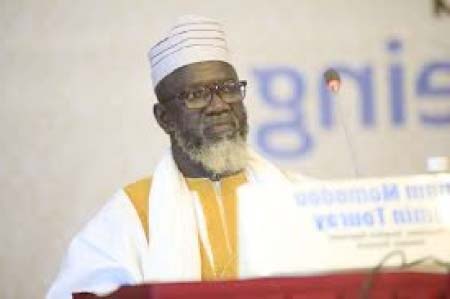 The president of the Supreme Islamic Council (SIC), Imam Muhammad Lamin Touray, yesterday testified before the TRRC, revealing that the council has no power to ban people from preaching or force people to pray on the same day with the council.

The lead counsel, Essa Faal, reminded him that the Constitution of The Gambia provides freedom for people to worship the religion of their choice, saying during Jammeh's era, many religious and individuals' rights were violated.
He added that the commission is not set to criticise religion but to investigate the violations on religious practices in accordance with the law.
Touray confirmed that it was not within the mandates of the council to force people to fast and pray on the same day. He also acknowledged that the council was not established by an Act of Parliament.
He said Islam does not use force, adding that somebody can be on a mat without praying as prayer comes from the heart. "Allah has not given us the power to force people," he further acknowledged.
In a video showed to him, involving former President Yahya Jammeh trying to force people to pray the same day with the council or be arrested, Iman Touray said they thanked God that Jammeh ordered the interior minister to arrest people, instead of them. He added that it was not in line with the Shariah law.
Faal put it him that it is also unlawful to the laws of the country.
On the order of arresting imams who prayed on a different day with the council, Touray clarified that the Islamic law doesn't give Jammeh that power. When Faal told him that it was a violation of the rights of the Muslims, Imam Touray replied it may be.
Sheikh Muhideen Hydara and Alkalo Boya Touray of Dasilamin Sinhajor, were arrested on 29 July in 2014 for not accepting to pray on the day as ordered by Jammeh. Imam Touray said he made it clear that if they had arrested Hydara because of him praying on a different day, then a lot would have been arrested.
"It was not because he didn't pray that's why he was arrested but there were so many things involved," he informed.
Faal put it to him that government indicated that Hydara was arrested because of his refusal to accept the lawful orders of Yahya Jammeh. However, Imam Touray replied that he knew 100% that Hydara was not arrested for that reason. Faal further asked whether it was lawful or unlawful, Imam Touray replied that it was unlawful.
He has been the President of Islamic solidarity organization West Africa from 1988 to date. He told the TRRC that the organisation operates only in Gambia, Senegal and Guinea.
Imam Touray explained that the responsibility to establish the SIC emanated after realising that Gambians who studied abroad had started to come home, and in order to have an umbrella body which will cover all Islamic organisations in the country, they had to form a council.
On whether those coming home have different ideology or perspective toward Islam, he testified that they brought different ideologies together so that they could live in harmony. He said the council was established in 1992.
He buttressed on the responsibilities of council, saying their job is to make Islam better and if there is any dispute, they would try and bring it to an end.
He added that the SIC is a non-governmental organisation and the council doesn't have power to force people or ban them; indicating one of the principles of the council is to foster peace.
On the relationship between the council and Jammeh, he said whatever Jammeh's government needed and wanted them to do, which is in line with Islamic laws, they would do it.
Read Other Articles In Article (Archive)