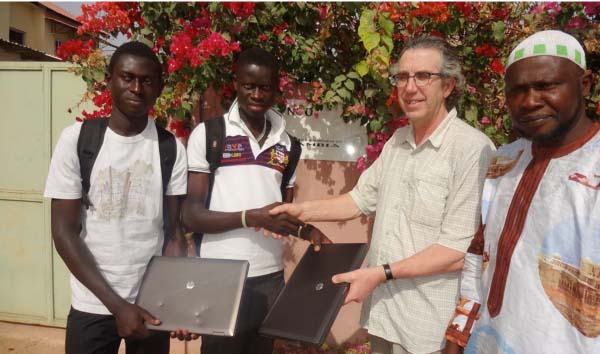 Noorderpoort College based in the Netherlands has donated 150 laptop computers to Gambian students and schools through the Foundation Humanitarian Aid - Gambia (FHAG), an NGO in the country.
The presentation of the computers was held at FHAG office at Trust Avenue in Brusubi in the weekend.
FHAG Secretary General Ousman Ceesay hailed Norderpoort College for the gesture saying the donation is a demonstration of the love and care the college has for Gambian students.
"Donating such a large amount of laptop to the Gambian schools and students is a clear indication of their concern in up lifting education in the country," he said.
Mr Cessay said the laptops will help Gambian students to achieved quality education and that is something The Gambia government is concerned with.
He said the Ministry of Education is in full support of such gestures and its doors are opened to "any genuine NGO or philanthropist" to come and support the Gambian students and schools.
He said the laptops will be distributed among the six regions of the country, and each of the identified schools in each region will received eight laptops.The machines will be given to schools that have electricity and computer lab.In addition, 44 laptops will go to UTG students who are sponsored by the organisation.
Vlaardingerbroeh Albert, a Dutch, said they got the laptops from their teachers in Holland because those people receive supply of new laptop every four years.
"So Noorderpoort college deemed it necessary not to keep these laptops in Holland but to send them to foreign countries that are in need of them to enhance the their learning process," he said."This is why they decided to send 600 laptops to foreign countries and The Gambia is benefiting 150 laptops through FHAG."
Alhaji Sunkary Badjie, FHAG board member, expressed appreciation for the gesture saying the donation is "very timely".
He pointed out that there is need for students to have laptop to facilitate their leaning process considering the use of technology in education.
Mr Badjie said investing in the education of youth is one of the surest ways to contribute towards the economic development of the country.
On behalf of the board, he assured that the laptops will be used for their intended purposes to better serve Gambian students.
Sandeh Mendy, a sponsored student, thanked the donors for the intervention in providing them with laptops which he said will help in improving their learning skills.
He said the issue of laptop was a great concern for them in their education but thanks to the donors, that concern is no more.
Read Other Articles In Article (Archive)