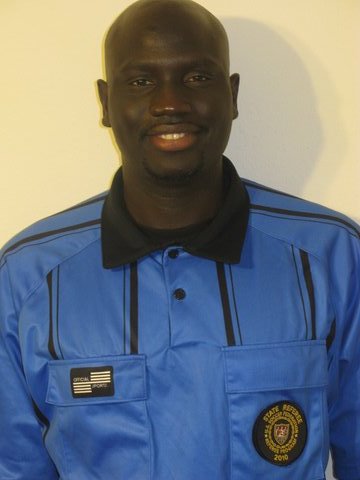 Prominent Gambian US-based football referee Baboucarr Jallow, whose career was nurtured under the tutelage of the late Badou Jasseh, former chairman of the Gambia Referees Association who passed away last year, is very much appreciative of his late mentor.
The untimely demise of veteran Gambian sports icon Badou Jasseh is a great loss to Gambian sports.
Baboucarr Jallow, who is currently in the country, is sponsoring a football tournament named after the late Jasseh at his native village of Kerr Mama.
The late Jasseh contributed a lot in building the capacity of young Gambian referees, some of whom are now CAF and FIFA referees and are representing these two respectable sports bodies in African continental competitions.
Baboucarr, who is one of these products, is using the tournament to remember the late Jasseh's legacy, who during his school days was an athlete and a cricket player before taking on refereeing as a professional career.
He was a great asset to the nation, as he immensely contributed towards the development of the country, and was always proud of The Gambia.
The achievements the country is registering in the field of refereeing are as a result of the good work of people like Badou Jasseh who also trained a lot of African referees as a CAF instructor, most of whom are now excelling in refereeing.
The late Badou Jasseh who was a gentleman to whom many people turned for advice in the area of sports in the country was a role model in society, and a man of truth.
He was also known for encouraging the female folk in the field of referring.
As the chairman of the Gambia football referees committee, he was also very supportive not only of the Gambia Football Association, but also of the private sector.
Baboucarr Jallow commenced his referring career in 1996 officiating nawettan games. In 1999 he moved to the first division and officiated the 2002 Gambia Football Association FA cup finals between Real and Wallidan.
The US-based referee later earned himself the status of a FIFA referee in the 2001/2 season before moving to the United States in September 2002 where he began referring in May 2005 as a State Referee grade 5.
He got his national batch in 2010 and is currently working with the MLS where he is officiating matches.
He was one-time selected United States Soccer Federation as the Development Academy Referee of the Week.
He was part of 56 top US referees who were short-listed by the US Soccer Federation for 2011 last March. That selection did qualify him as candidate for the US referee badge for the 2011 registration year.
The Kerr Mama native is one of the most outstanding referees the country has ever produced. He initiated the Kerr Mama Football tournament ten years ago and was also chairman of the Upper Nuimi Sports Committee before moving to the United States.
Read Other Articles In Article (Archive)