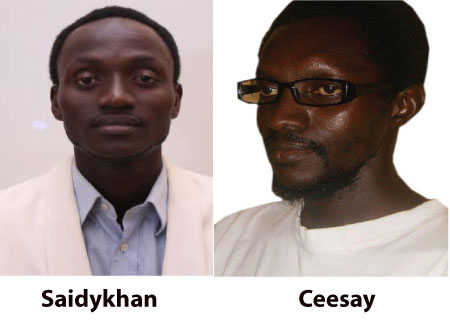 The International Federation of Journalists (IFJ) today called on the Gambia Government to drop all charges against journalists Baboucarr Ceesay and Aboubacarr SaidyKhan, both of whom were released on bail on Monday 10 September, but slammed with a new charge of "conspiracy to commit felony" under section 368 of the criminal code.
"This new charge is part of a systematic pattern of harassment and intimidation that has been meted out to journalists in The Gambia for the past decade," said Gabriel Baglo Director of the IFJ Africa Office.
In a statement issued on Thursday, the IFJ reiterated its calls to the Gambia government to drop all charges against the two journalists with immediate effect and unconditionally.
The charges, it said, are an affront to democratic principles, respect for human rights and the rule of law.
The IFJ further called on the Gambia government to focus its attention more on the creation of a conducive environment for the media to flourish, and for divergent views to be heard. 
"Journalists in The Gambia must be allowed to exercise their freedom of expression as guaranteed by the Gambian constitution and other international instruments that the country has signed and ratified, including the African Charter on Human and Peoples' Rights.
"Peaceful demonstrations and the right to peaceful assembly are constitutionally guaranteed rights that should be respected and upheld by all and sundry", Baglo added.
It would be recalled that the journalists were arrested last weekend by the police, in relation to a letter that was written to the Inspector General of Police requesting for a permit to demonstrate over the killing of nine death row inmates. 
Though the permit was never granted, the journalists were cajoled to come to the station and then detained.
The two journalists were asked to report to the police crime investigation unit next Monday.
Read Other Articles In Article (Archive)