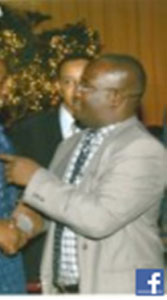 Veteran sports journalist Tijan Masanneh Ceesay has produced a book on Gambian football capturing events between1975 and 1985.
The much-awaited book on Gambian football by acclaimed Gambian football commentator and sports journalist Tijan Masanneh Ceesay is on its way to the publishers.
The book has been reviewed by renowned author, academic and scholar, Dr Rosemarie Skaine, who edited the manuscript and had this to say:
"Tijan Masanneh Ceesay's book, Gambian Football, 1975-1985: An Insider's Review, is a must read for anyone who loves football. It chronicles a significant decade in the development of Gambian football. It weaves accounts of games and tournaments with first hand experiences and insights. Football teams developed, players became stars nationally and internationally, and great rivalries intensified. Gambian football emerged with greater stature on the African scene.
The book features the role of the media as Gambian football became a major part of the fabric of Gambian society. On the radio, Saul Njie made the games come alive for the listeners of Radio Gambia and, in print; Zone Two Cabral Daily provided lively accounts and statistics that football fans everywhere want to know. Through the French media, Mr Pap Saine, Reuters Correspondent, spread the word beyond the continent that Gambian football was on the march.
If you love football, you need to read Gambian Football, 1975-1985: An Insider's Review."
EXCERPTS FROM THE BOOK
On the Zone Two Cabral Daily
The meeting with Mr Conateh was put off because I had to travel to Bamako, Mali, the next day for a ten-day period to cover the Alhagie Sir Dawda Kairaba Jawara Zone Two Basketball Championship in which The Gambian female team was competing.
What should have been ten days, lasted three weeks because we missed our outbound flight from Bamako into Dakar. The extra week I spent in Mali, gave me extra time to think about the project and to format the whole newspaper in my mind.
After the tiring extra week in Bamako, I flew with Mam Essa Gaye, Maila Touray, Abdoulie Badjie and Pa Mboob, out of Bamako on Ethiopian Airlines into Dakar.
We caught the first car out of Pompey to Banjul. We arrived at Barra in the North Bank of The Gambia and boarded the ferry for Banjul. What should have been a normal thirty minute ride lasted well over three hours because the ferry was lost at sea in foggy weather that had paid a visit to the sub-region that day.
There was not a single soul in that ferry who did not think we were doomed. For me, it was surreal, I prayed, like everyone on board, because I really did not want to go like that two days before Christmas.
During the chaos, we learned that the ferry's navigation system was out of order. We all just placed our hopes at the mercy of the choppy waters of the Atlantic Ocean until two dugout canoes operated by Sererr fishermen, who, like the Dogon tribe of Mali , are masters of the sea, guided us to the right path into Banjul. I did not wait for that ferry to dock all the way at its ramp; I jumped out for dear life.
Sitting next to and learning from the Best: Radio Gambia's Saul Njie
On March 14th, 1977, I was introduced to my hero, Saul Njie. Mr Gibi Jallow, proprietor of Banjul Mother Care, introduced me.
On that day, I recalled walking bare feet on the hot tar roads of Banjul into Box Bar Stadium.
On arrival at the western gate on Primet Street, Mr Jallow and I found a long line waiting to get in for what was a big game that day, Real vs. Wallidan.
We waited in line while people filed in, each paying three dalasis. Finally, we got to the paying spot. Mr Jallow paid his three dalasis and asked that I be let in free, because he was taking me to meet Saul Njie. He went on to narrate how talented he found me to be and what I could become if I was encouraged. The lady at the gate, a tall beautiful Banjul lady named Anta Kah, who was collecting the monies, was not buying it, and the Police Constable named Bojang but affectionately known as "Endurance " because of his commitment to duty, was not going to let me in anyway.
Mr Jallow was quite disappointed, but he went ahead and paid for me. It is important to also say that, within few months, Constable Endurance and I became very close friends.
He admired the very talent Mr Jallow was talking about and would even invite me to lunches at his apartment in the barracks. He was one funny cop, but also hardworking.
On Tijan's Favorite Roots Football Club
The following season, Roots were promoted to the second division and ended up as the runners-up for promotion to the premier division.
That season, either by coincidence or something else, the Fr. Gough teams, Roots and Young Africans, were billed against each other in the Gambian FA Cup.
This game was much anticipated because, for one, they were owned by one person, Fr. Joseph Gough, second they scrimmaged together every day and, third, the players attended the same school.
Well before the game, this encounter was hyped like no other, and the tension between these two sister teams grew. On game day, Young Africans, a team that we beat every day at practice, jumped on us right from the whistle with Baba Jarra netting three quick goals to calm their nerves.
Our team wasn't really prepared and I took full responsibility for that. The game was dirty from the word go and my boys refused to talk to Fr. Gough at halftime, claiming he was supporting Young Africans. It was indeed an awkward scene as everybody watched from the stands. It was totally disrespectful not to talk to him, but this was the way the boys expressed their frustration over a suspicion.
Of course, the next morning, a student we nicknamed "Fr. Gough's envoy," Moses Benjamin Jallow, who, indeed, grew up to become an accomplished diplomat for The Gambia, informed me that I was wanted by Fr. Gough in his office.
As soon as I got the news, I knew I was in trouble. Not knowing what was waiting for me, I walked my shivering self into Fr. Gough's office. As soon as I entered, he asked me to close the door, which I did and told me to take a seat. He took off his glasses and asked me, in that thick Irish accent, to "explain the behaviour of my team the previous evening". I really had no answer and got an ear full.
As gracious and humble as ever, Young Tijan Ceesay as he was commonly referred to as a young football commentator has reached out to both his mentors, Saul Njie and Pap Saine, two people he shared the commentary box with for many years.
He has requested both to write a few lines for the book. The former diplomatic hand for The Gambia in Washington DC is looking forward to launching the book in the summer of 2013 in the United States and also in The Gambia.
Ceesay has also said that some of the proceeds from the book will be put in a fund set up to benefit former Gambian internationals that played during his time.
This fund, according to him, will be coordinated by his friend and former colleague, Peter Gomez of West Coast Radio. Stay tuned for the release, if you are true football fan and want to know about the glory years of Gambian football, heed to the reviewer's advice, "IT'S A MUST READ".
For as long as our friendship which runs for almost thirty years, I have always told Tijan, that he's done everything: public service, journalist, football commentator, diplomat for The Gambia in DC, football executive, led many organizations, public speaker , one thing I kept reminding him was that he has not captured his years in Gambian football.
He was reluctant telling me he did not want to offend some people and I reminded him that the profession he practised as a young man comes with the turf and he owed it to Gambian football lovers, especially the younger generation, to write about the glory days of Gambian football or it will be a disservice to the people he says he loves.
I assume after all these years of having him hear it from me, he called me up in July and told me the project is on and asked me to produce it and I must say, I could not be prouder of my friend, one of the world's finest people, but much more so, I am prouder that after some thirty-eight years, Tijan goes back to his roots and dedicated the book as a tribute to his primary school teacher; Joseph P. Jallow; who according to him, taught him how to write." This is indeed a MUST READ book!
Read Other Articles In Article (Archive)