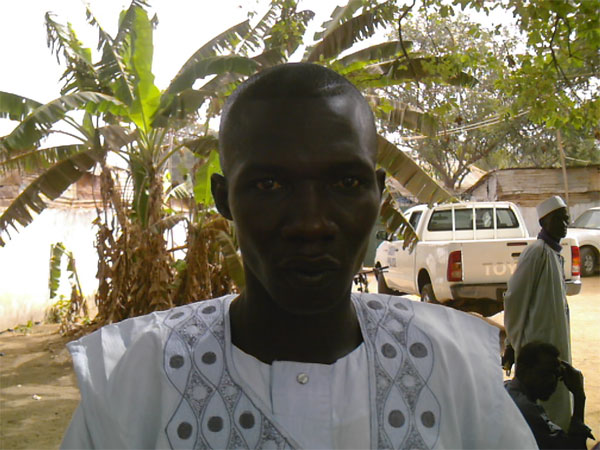 The 'self-proclaimed' Alkalo of Babylon, Mr. Lamin Jarju, has vehemently denied an allegation that he was harbouring an armed gang in Babylon.
Mr. Jarju, also the first prosecution witness in the trial of 95 men over charges of being, among others, armed in public and arson, was accused of sheltering a vigilante group in Babylon but had argued that the group was there to protect lives and properties.
On the resumption of the case on Wednesday at the Brikama Magistrates' Court courtyard, drama unfolded when the trial proceedings were delayed for over ten minutes because Jarju had insisted on not handing over a talisman, wrapped with red piece of cloth, to one of the onlookers. Defence counsel Gaye, however, insisted that the juju be handed over to someone in the crowd before the case could proceed. The case later proceeded when Jarju handed over the juju to someone in the crowd.
Under cross-examination, Jarju informed the court that he joined the Gambia National Army in 1988 and that he owned the green jeep that was set ablaze during the 30 March Babylon disturbances.
When asked whether he was once arrested at Mandina Ba with illegal drugs, Jarju replied in the negative. "Do you know one Mamina who was among the men from the drug squad that arrested you at Mandina Ba police station and took you to Brikama Magistrates' Court," asked senior lawyer Gaye. "No", replied Jarju. "I'm putting it to you that this had resulted in your dismissal from the army," asserted Gaye.
Taking him back to the issue of the stamp that he was using as the Alkalo of Babylon, Antouman Gaye countered Jarju's earlier statement that he had inherited the stamp from his father before his death. Gaye put it to Jarju that his father was never an Alkalo but a tailor to which Jarju agreed.
The case, chaired by Senior Magistrate Edrisa F. Mbai, continues on May 5.
Read Other Articles In Article (Archive)