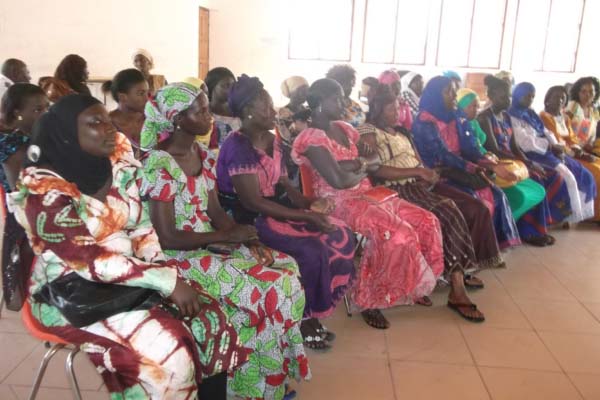 The Network Against Gender-based Violence has been busy creating awareness about gender-based violence.
"We target this particular group which is house helpers, domestic workers and cleaners. We target them because we thought that most often they have little time to listen to radios or read newspapers or watch television," said women's rights activist Fanta Jatta Sowe.
These are people who are working for six days a week and for very long hours, and most of them close at six or seven in the evening and they only have Sundays as a day off; which they use to take care of many issues, Ms Sowe added.
They are a group that is also considered as a vulnerable group because the work set up is not that much formalized, she continued.
They were brought together to sensitize them about the laws on gender-based violence, such as the Sexual Offences Act 2013 and Women's Act of 2010, Sowe said.
Ms Sowe, a women's rights activist with ActionAid International The Gambia, explained thatgender refers to the roles, responsibilities, attributes and power relations that are socially constructed by and assigned to men and women in a given society or community.
It is also about needs, interests and capacities of both men and women; which constructs vary greatly by culture, geographic region, socio-economic status and context, and change overtime through socialisation, she further noted.
Gender and gender mainstreaming is a globally recognized strategy for making women's, as well as men's concerns and experiences an integral dimension of the design, implementation, monitoring, and evaluation of policies and programmes in all political, economic and societal spheres.
This is to ensure that women and men benefit equally from the processes of development, and that inequality is not perpetuated in (UN, 1997) the process of assessing the implications of any planned action on women and men, she added.
Gender-based violence she defined as any act inflicted against a person just because he or she is a woman or man; such act may cause or is likely to cause pain or injury either physically or emotionally.
In other words, it is any act that denies an individual from enjoying their fundamental rights based on sex.
Ms Ida Badjan of Latrikunda German hailed and commended the network for their initiative, adding that for the first time in The Gambia such a group is involved in such a sensitization exercise about the laws of the country.
"I have been in this work for years, but this is the first time for me and my colleagues to be brought together to be sensitized and exposed to such laws," she added.
Read Other Articles In Article (Archive)