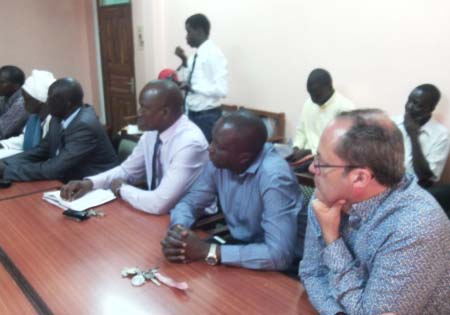 The Gambia Hotel Association (GHA) has presented a cheque of D100,000 to the Ministry of Tourism and Culture as part of the association's contribution to the Tourism Emergency Fund.
The presentation was held at the ministry's premises in Banjul recently. 
Receiving the cheque, Tourism Minister Benjamin Roberts commended members of GHA for their contribution saying the money would go a long way in supporting the emergency fund.
With the GHA donation, the total amount contributed to the fund stands at D300,000.
The minister said the donation by GHA is a manifestation of the association's commitment to work with the Ministry of Tourism for the betterment and advancement of destination Gambia.
"The only way we can advance the tourism industry is to come together and work as a team," he said.
Momodou Joof, permanent secretary at the Ministry of Tourism, said the GHA is a partner to the ministry for "they have worked actively and closely" together in furtherance of the tourism industry of The Gambia.
He said The Gambia needed more fund to embark on a campaign to revise the negative impression created by the outbreak of Ebola in few countries of West Africa.
"There is a need for more resources to be mobilised so that more outreach missions can be organised in other to paint the true picture of The Gambia," PS Joof said.
Speaking shortly after the presentation of the cheque, Malleh Sallah of GHA said from the onset, the association welcomes the establishment of the emergency fund.
"They always say that prevention is better than cure, so it is better to be prepared for any eventuality that could cause shock to the tourism industry," Mr Sallah said.
Read Other Articles In Article (Archive)