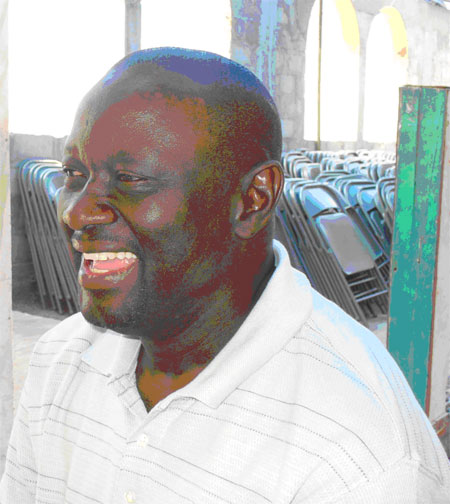 The President, Imam Ratib and members of the Pipeline Mosque Foundation were struck recently with the untimely death of Mr. Pa Alassan Jagne, a stalwart of the Mosque and one of its long serving members, which took place on 8th July, 2010. Burial took place the same day at the Jeshwang cemetery after prayers at the Pipeline Mosque led by the Imam Ratib of the mosque Alhaji Pa Njie in the presence of a huge crowd of friends, colleagues and relatives.
The death of Pa Alassan Jagne is a great loss to the nation but the loss is no less for the Pipeline Mosque to which he devoted the best part of the last fifteen years as a Committee member, Assistant Secretary, Executive Committee member and as Chairman of the School Board of the Daddy Jobe Comprehensive School built by the mosque and named after its founding President the late Alhaji MBI Daddy Jobe. Mr. Jagne was until his death, an active member of the Protocol and Welfare Committee of the Foundation. This Committee has the responsibility of visiting sick and incapacitated members of the mosque congregation and in certain cases providing support.
His service to fellow humans came very early in his life. We recall that as a young boy, rather than spend his time playing street football like most ndongoh Banjul, he was always accompanying his visually impaired uncle to work at the law courts or to social functions.
This was certainly a blessing which accompanied him to his last days. When he left school, he worked in the Department of Labour and Social Welfare under the infatigable TB Foon and in the course of his normal duties; he was involved in negotiations for workers' rights and conditions. Even at this early age, Pa felt the obligation to assist the under privileged, and, in some cases, the exploited workers. This was therefore a natural precursor of his next assignment.
Pa was sent to the United Kingdom to study social sciences in Swansea to beef up the Department of Social Welfare which was to be hived off from Labour. On his return to The Gambia, Pa went to work in the new under then Director Mr. Edward Eunson. Working under the tutelage of Master Eunson, as he was commonly known, a man of all seasons was in itself ample training in human relationships and this was to prove extremely useful when he rose to become the longest serving Director of the Department.
Apart from the number of marriages, broken homes and abandoned children, which were legion, that this man had salvaged during his term as Director, those of us who worked with him in the Ministry of Health remember particularly his tireless efforts in our negotiations - the then Minister Aunty Louise Njie and I as Permanent Secretary, to bring the Dutch to build in The Gambia a much needed rehabilitation centre for accident victims needing among other things, prosthesis and wheelchairs. To date, patients come even from neighbouring countries to receive attention.
This edifice, presently standing adjacent to the School of Nursing on Marina Parade, has proven to be a fantastic complement to health delivery in The Gambia. The icing on the cake was that apart from the Complex a separate new office was built for his Department on the same site.
For the Mosque, we remember at Committee meetings of the Foundation when some divergent views seem difficult to decide, how Pa would just raise his hand and in his usual staccato delivery would come up with what seem to be an easy solution but which eluded the minds of most in the gathering.
He was a good listener but when he spoke you cannot but agree that what he said made a lot of sense. His contributions to the discussions in our meetings were valuable. Maybe that is what comes out of decades of listening to the cases of family feuds, broken marriages, child protection, child abuse and everything related to the family.
His contribution as a member of the various committees of the Mosque was exemplary but his conduct of the Committee - the School Board - of which he was Chairman, was remarkable.
He gave everybody a chance and it was a pleasure watching him chair meetings. When it came to working conditions of the staff of the school, he showed unbridled generosity and largesse. It was not a surprise therefore that when the news of his death reached the school, staff were seen weeping uncontrollably. Within the mosque, they were not the only ones.
On a personal note, I worked with Pa as his Permanent Secretary when he was Director of Social Welfare and I can state with no fear of any contradiction that in many respects he towered over most of the Heads of the Departments that were under the purview of the Ministry of Health, Labour, Social Welfare and the Environment at that time. Thorough and meticulous in his reports, I remember the man would come to my office in the Quadrangle with a file with a minute profferinga family case that is not only mind boggling but reading it alone would give a sane man instant migraine, but Pa would handle this so well that a week or two later he would come into my office with a letter of thanks or some news from the parties.
The seemingly insurmountable problem had been solved! Pa had sorted the matter out amicably to the satisfaction of both parties. This is the epitome of Pa's life. He would work hard to bring peace to a potentially bad situation and he would do it without conceit self importance. It was his job and he enjoyed it.
With all these attributes and many more that could not be described within the precincts of this brief tribute, Pa was a self effacing and reserved person yet very jovial and had a good sense of humour.
He would at gatherings of the mosque while waiting for magrib crack a joke, particularly on his big brother, and everybody enjoyed it. He nevertheless eschewed publicity and was not given to loud palaver or ostentation.
He was a man of untainted integrity and contributed immensely to the development of the mosque not only in ideas but in financial resources. He did all this without fanfare. It is only with his untimely death that we can mention some of his good deeds. We as his colleagues, friends and brothers will say it now.  Pa was a good man and we will miss him as long as we live.
His death is an irreparableloss to the Mosque Foundation and no doubt to all who had had the pleasure and privilege of knowing him or and working with him.
He will be sorely missed by his colleagues on the Mosque Committee and indeed the entire mole congregation of Pipeline Mosque and beyond. As we extend our heartfelt sympathy to his devoted wife Fatou and all his children and relatives, we pray that Allah the Almighty give them all and us the steadfastness to live with this void that his death has created.
May Allah the Almighty grant him a peaceful repose in Heaven. Ameen
Read Other Articles In Article (Archive)