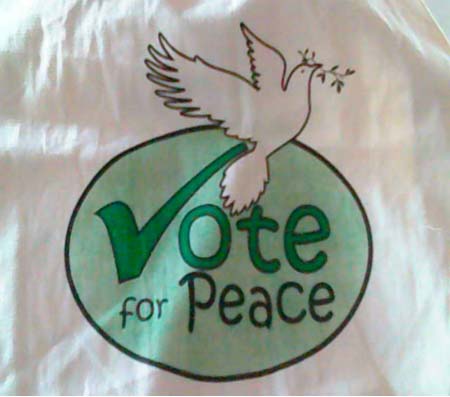 On 1December 2016, the attention of the world focuses on The Gambia as the country heads to the presidential election.

This serves as a unique opportunity, once in every five years, for the electorate to choose a political leader who will be charged with running the affairs of this country for the coming five years.
The current political climate of the country can be seen one of a rising temperature, following completion of the nomination process for the three aspiring political leaders cleared by IEC to contest for the highest position in this land.
These candidates have already completed their nationwide political campaigns, after crisscrossing the length and breadth of the country to convince the masses to vote for them.
Therefore, it is imperative for citizens who are eligible to vote, to turn out in their large numbers and vote for their candidate of choice, on Election Day.
In fulfilling this constitutional mandate, I implore on citizens to vote maturely in a peaceful and orderly manner within the highest standard of discipline.
Let the electorate maintain peace, tranquility and harmony, which the country is best known for, during the pre and post-election periods.
Let the people be aware and give a deaf reception to detractors and enemies of peace, who are hell bent on plunging the country into chaos for their selfish and ulterior motives, using the social media as their base to launch such attacks.
Peace is the cornerstone to all social, cultural, economic and human development initiatives geared towards the positive advancement of any society, and The Gambia is no exception to this phenomenon.
One does not need to attain a PhD or Master's degree in peace studies or management in order to know the significance of peace, just take a snapshot of atrocities unfolding in conflict-ridden countries like DRC, Syria, Yemen, Libya and Iraq, to name but a few battered by wars and civil unrest.
It can be universally concluded that peace is a multi-billion dollar unique commodity that cannot be easily procured, but needs to be cherished and jealously guarded by those enjoying it, at all cost.
Elections, political leaders and regimes may come and go, but The Gambia and its citizens are here to stay. Politics should rather unite Gambians as one nation in strengthening our brotherhood and sisterhood for the common good, not divide us.

There should not be any violence during, before and after the election; let us maintain the peace and cast our votes in a transparent and legal way to avoid chaos and conflict.
It is also mandatory to all citizens with voters' cards to come out in large numbers and elect a leader for the next five years, because your cards are your choices and it decides.
May Allah the Almighty shower his infinite and richest blessings, protection and good guidance upon The Gambia and its people at all cost.
God bless the Islamic Republic of The Gambia, with peace, peace and uninterrupted peace now and forever in this beautiful and blessed country of The Gambia.
Remember your Voter's Card is your voice, and it decides!
Read Other Articles In Article (Archive)