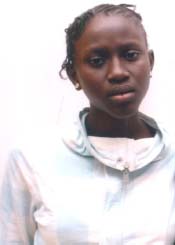 Holland-Gambian national Harry Wayper has revealed his intention to support Isatou Suso for her overseas treatment.
He made this statement in an interview with journalists at his apartment in Fajara at the weekend.
The 18-year-old girl, who lives in Bundung, has long history of rheumatic heart disease that has prevented her from going to school.
Medical reports from MRC and RVTH in Banjul have confirmed that the patient has a long history of rheumatic heart disease which requires surgery.
Another recommendation from the faculty of medicine at the Cheikh Anta Diop University in Dakar, states that the girl needs an overseas treatment for heart surgery.
The cost of the treatment is about €40,000 excluding the travel, lodging and feeding cost for the patient and her escort.
In fact all the necessary arrangement and preparations have been done and the University Medical Centre Groninger in Holland is expecting the patient to arrive as soon as possible.
Wayper started coming to The Gambia since 1995 as a tourist but later decided to stay and he is the proprietor of Fajara golf apartment.
He said he uses proceeds from the apartment to support poor and needy children in terms of their education and health.
He added that he had sponsored over 20 children including some law students at the University of The Gambia. 
"All what I am doing is for the sake of God and we are all equal in the eyes of God, if there is someone who needs help, please you help," he said.
He also made it categorically clear that he is not running a foundation. "I might think about it in the future for the purpose of sustainability," he said.
Isatou Suso, the patient, who presented her medical reports to journalists for confirmation, stated that she has long been a heart patient.
At first they (the family) thought it was an ulcer but it was later medically confirmed that it was a heart disease.
"My parents and family were doing everything possible to treat me but they cannot afford the overseas treatment, thanks to Harry Wayper for his timely intervention.
Famara Singhateh, one of the sponsored law students at the UTG, hailed Harry Wayper for his humanitarian gesture and called on other philanthropists and well-wishers to emulate Mr Wayper for his laudable gesture.
Read Other Articles In Article (Archive)