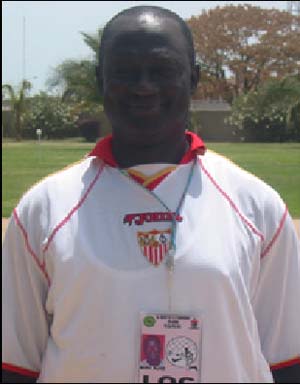 One of Britain's largest selling newspapers, the Herald Scotland, has linked the legendary role of Gambian Biri, to the most successful part of the history of Spanish football Club Sevilla. In a long article by its chief football writer, on the history of the club, the paper described Biri as the exotic African who reigned in the hearts and mind of fans and remained popular to date. Read on
THE STORY of Sevilla should be accompanied by a soaring operatic soundtrack, or better, a piece of flamenco music that alternates between the doleful and the frenetically exciting
It has a solid beginning, a mildly interesting second act, but a climax that bursts with the energy and individuality of a fabulous cast of characters and contains the chill of genuine tragedy
There is so much in Sevilla. It sounds like the lamest tourist slogan, but the Andalusian club has a storyline that combines romance and darkness. The leading players are all modern characters
The cast is as follows: the exotic African who bequeathed an enduring legacy, the hero who died on the field of battle, the leading actor who has dealt with kidnapping and placated the gods of anger, and the president who seems part tyrant/part father, as all good dictators should be. Throw in Jock Wallace, add to the script a couple of European triumphs and then play it all out in front of a rousing chorus of fanatical Nervionenses
The beginning is simply told. Sevilla Futbol Club was formed in October 1905. Apart from the odd miracle (11-1 victory over Barcelona in the 1939-40 season), the club paddled in the waters of mediocrity. The only La Liga was won just after the Second World War
The second act includes the opening of the Ramon Sanchez Pizjuan stadium, named after a club president, in 1958 and a period of reaching the high notes of participation in La Liga and the low notes of relegation
It was the time of the exotic African. Alhaji Momodu Njie was a Gambian who came to the gates of Sevilla in 1973. He stayed to reign in the minds and hearts of Sevilla supporters. They adopted his nickname - Biri Biri - as the term for the collective group of fanatics in the north end of the stadium. "I was so popular with the club throughout my seven years spent with them because I was one of their best players. I was a complete footballer, since I was skilful, a great goal scorer and very fast on the ball," said Biri Biri modestly
If the collective memory of the fans is filled with warm recollections of the Gambian, the Biris also have their fallen hero who is part of the third act of Sevilla. Antonio Puerta died in 2007 of a heart attack while Sevilla were playing Getafe. He was 22. His No.16 shirt has led to a moving tribute. The Biris break out in applause in the 16th minute of every match
The contemporary hero is, of course, Luis Fabiano. The Brazilian centre-forward deserves attention because of his goal-scoring exploits, but he can deliver some great lines. Playing for Sao Paulo in a Copa America match, Fabiano tried to kick a River Plate opponent in the throat. "Better to hit an Argentinian than to win and score a penalty against them," he said
Fabiano, though, has calmed down somewhat. His demons have been dismissed after he had to deal with the kidnapping of his mother in 2005. That ordeal was blessedly given a happy ending with the safe return of his mother. Fabuloso's subsequent actions on the park have been exclusively heroic
If these characters seem more than enough to invest the Sevilla story with more than enough spice, there was also the venerable Wallace, who spent a year at the club from 1986, inhabiting the Andalusian story with the character of The Tin Man, the nickname for Ted McMinn, who joined his fellow Scot in the city
There are also the baubles that adorn the stage. Sevilla have won the UEFA Cup twice, in 2006 and the year after at Hampden. The story is played out in front of the adoring Biris. "I love going to Sevilla," said Sid Lowe, a La Liga commentator who writes for World Soccer, the Guardian and FourFourTwo. "The fans really provide a spectacular atmosphere. This is a stadium that bounces with noise and emotion."
It is a club that is similarly vibrant with hope and expectation. And at its very top, there is a figure of operatic proportions. Jose Maria del Nido, 52, is the president of the club. "Sevilla's support is mainly left-wing and fairly moderate," said Sid Lowe. "Del Nido is right-wing."
The president is so right-wing that if he was a player he would be performing so far from the wide touchline that he would be in the upper reaches of the Ramon Sanchez Pizjuan stadium. His father was elected to the senate of Sevilla as a member of the far-right Alianza Nacional and his son was a supporter of Fuerza Nueva, a grouping that has faded but was once described as both fascist and Francophile.
Del Nido was arrested as a youngster for his part in trouble following a demonstration. His trouble with the law continued into his middle age, when he was the subject of a corruption inquiry after he billed Marbella municipal authorities for more than £4m for legal advice. This was the Marbella of Jesus Gil, president of Atletico Madrid, and a friend of Del Nido
But the events of the past and his political views have not distanced Del Nido from the Biris. He has been, after all, an astonishing success as the helmsman of Sevilla. He took over in 2002 when the club had huge debts, had not won a significant trophy for more than half a century and seemed condemned at best to mediocrity.
Sevilla are now financially stable and sportingly successful. Del Nido has by some alchemy combined football glory with fiscal prudence. "He is only interested in money and football," said one denigrator of the president.
But Nel Nido has combined these passions to dramatic effect. When signing Alvaro Negredo from Real Madrid for £12m in the summer, the president said: "He is the cherry on the cake of our best squad in history."
His statement is characteristically bombastic but it carries an undeniable whiff of authenticity. This may be the finest Sevilla team. Yet Del Nido has presided over a regime that has acceded to the departures of such great talents as Jose Antonio Reyes, Julio Baptista, Sergio Ramos and Dani Alves. "For ?25m they can have the boots of Alves," said Del Nido in a successful attempt at prising out another ?8m from Barcelona
He has continued to enhance the reputation of Sevilla as a club that can produce talent, but he is not afraid to speculate on the transfer market, as the acquisitions of Fabiano and Negredo show.
He is a remarkable, contrary character who invites judicial investigations, political condemnation and personal abuse. Yet, he has taken his beloved club to delirious heights on a sober budget. It is a trick that has eluded almost everyone who has taken over a football team. Andalusia has thus a performer who can steal the show.
Sevilla can entertain and beguile on the field and the Biris will demand attention with their passionate support. But the most fascinating character in the Sevilla opera is sitting in the stand.
Read Other Articles In Article (Archive)