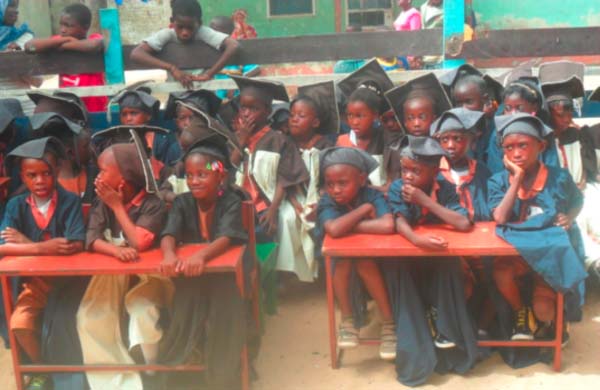 Help African Schools to Educate" (HASTE) situated at Dippa Kunda on Saturday graduated fifty students who completed their Nursery Four, and to be promoted to Grade 1.
Speaking at the ceremony Lamin Boye, the guest speaker at the ceremony, said the day was not only to celebrate their success but also to reflect on social issues affecting children's education as future leaders.
According to him, in any ECD programme, early cognitive development is one of the major factors that determine school performance and progress at a later stage in life, adding that there is a strong association between early childhood factor and primary school performance and progress.
"It has been demonstrated thatchildren who have participated in early childhood education and related programmes generally remain in school and unlikely to repeat classes and their class performance is much better compared to those who have never attended pre-school," he state.
Boye advised the students to be cautious as they were entering a world of testing and strict standards that will dictate their every move.
He said their play time will be replaced by test preparation and their coloring will be done with number two pencil in small circles.
He added that they have started a journey towards achieving their noble goal and dream as the past years have seen them grow and develop exponentially.
"As you get older your classes will become more rigid, structured and scripted, he said, adding do what ever you can do to be creative in your work and pursue your natural curiosity," he stated.
He thanked the head teacher and his teaching staff as well as all who may have one way or the other made it possible for them to celebrate the important day with the graduating students.
For his part, the chairman of the occasion, Joseph M.A. Mendy, gave a brief background of the school, saying it was established in 1987 with 12 girls and 16 boys, and a veteran teacher called Mr Musa Saine, who is now in America.
The present enrolment of students in the school is 167 with 5 teaching staff among which 32 are expected to move to St Therese's Lower Basic School, 1 to St. Peters' Lower Basic, 2 to New Life Lower Basic, 3 to Serre-kunda Lower Basic, 1 to Maladah Lower Basic, 4 to Bakoteh Lower Basic School, 2 to S.O.S Lower Basic, 1 to Imam Malick Islamic Institution and 3 to Bakoteh Annex Lower Basic School respectively.
According to him, the tremendous support the school is getting is made possible through support from the Alkalo, the council of elders and the community of Manjai.
He said he gives the Almighty God profound thanks for His blessings and protection that all the students who passed through the school acquired the right knowledge and morals they needed.
Read Other Articles In Article (Archive)