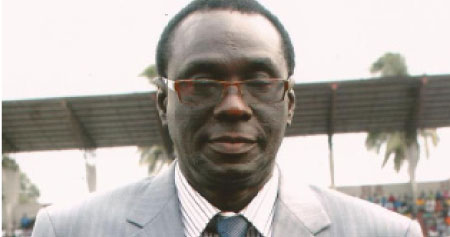 Adama Halla Samba, the president of Wallidan FC and presidential aspirant in the constantly delayed Gambia Football Association (GFA) elective congress, has said the continuous extension of the mandate of the Normalization Committee, NC, has come to him as a surprise.
He says he believes that there is nothing that could be accomplished between now and the new expiry date that has not been covered already.
Mr Samba was reacting to news of another extension in the life of the NC, which now gives the interim committee up to June 30th.
Prior to this new extension, the NC had said they would leave at the end of April.
According to Mr Samba, he could not understand what warranted the extension, since it is the same constitution, adopted on April 13, that will be used in the elections.
"So that being the case, I think the period between April 13 and June 30th is too long for a process which requires only two weeks to complete. We are now heading to the rainy season, and by June the NC would have been in power for well over one and half years. I strongly believe that what they need to do now, in the interest of all football stakeholders, is to call a congress," Halla told The Point.
Asked if his hurry to see the back of the Normalization Committee is not motivated by his political strategy to gain advantage before any other strong candidate emerges, Mr Samba said he does not mind who becomes the GFA president as long as the elections is held now and not later, since this is what genuine football stakeholders want .
"It is the people who are now impatient with these frequent extensions,'' he said.
On rumours that some members of the GFA Normalization Committee are working on a 'hidden agenda' to prepare themselves for elections, an allegation vehemently denied by the NC, Mr Samba said he has no confirmation of this, 'but the issue of any member of the Normalization Committee aiming to contest the elections is out of the question.
"It has been made known and they themselves have made it categorically clear that they are not eligible to contest the elections as members of the interim committee. There is no other option in this matter. They simply cannot contest. There should be no dilly-dallying on this; they are just not supposed to contest. I do not see them changing that position. If they try to do so we will challenge them, no doubt about that,'' he emphasized.
On the present state of football, characterized of late by poor results on the international front, Mr Samba said the current state, especially the Gamtel versus CS Sfaxien match, is very sad and should be a source of concern to all Gambians in football.
"The NC should be in position to explain this state of affairs. The former GFA was dissolved because we lost to Algeria 3-1. Now let us ask ourselves how many matches have been lost since the NC took over. Let's face it, football is declining presently.
"I have my programme and to solve these problems, but I cannot do it outside football. But when all these politics are put aside and I'm elected, I can guarantee that I and my team can solve these problems,'' he concluded.
Halla Samba's comments came on the heels of similar opinions widely expressing impatience with the constant extension of the mandate of the GFA interim management. It has been alleged in many quarters that the members of the NC have been using their influence in FIFA and Caf to lobby for extensions to suit their 'hidden agenda'.
However, Omar Sey of the NC had repeatedly denied that they ever lobbied for any single day longer than necessary.
However, if the feeling of most members of the football fraternity is anything to go by, frequent pushing of the NC's mandate would not help to assure critics of their sincerity and impartiality.
Read Other Articles In Article (Archive)