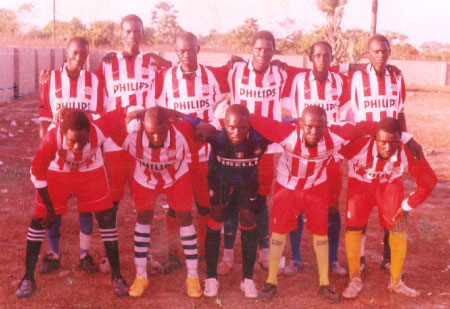 Halifax FC on Saturday beat Central Lanuja FC 4-3 on penalties, after regulation time failed to produce a winner in the qualifiers tie played at the Gunjur Nyamina Football Field, to sail to the 2014-2015 Gunjur Nawettan proper.
Central Lanuja opened the tally in the first half and Halifax levelled the scores in the second half after a deadlock in the first half.
This pushed the game into a post-match penalty shootout which ended 4-3 in favour of Gunjur Fabaida-based outfit to snatch a place in the 2013-2014 Gunjur Nawettan for the first time in their history.
Halifax have now joined league champions Steve Biko FC, knockout champions Alex Sanchaba FC, league runners-up Sunderland FC, knockout champions Gamcel FC, Commit FC, Standard FC, QCell FC World Eleven FC, Late Dembo FC, Kajabang FC, Solifo Investment FC, Sibindinto FC, Kun Dembo FC and Farms Construction Engineering Company Limited FC in the 2014-2015 Gunjur Summer biggest football fray better known as nawetan.
In a similar development, the annual constitutional review of Gunjur Youth and Sports Development Association (GYSDA) is scheduled for Friday 15 August 2014, at the Gunjur Day Care Centre at 9am.
The review is expected to bring together delegates from all the teams affiliated with GYSDA to review the constitution ahead of the town's summer biggest football gala set to commence later in the summer.
Read Other Articles In Article (Archive)