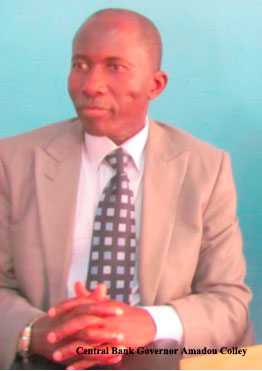 The Gambian banking sector has been rated as fundamentally sound by Governor Amadou Colley of the Central Bank of The Gambia.
The sector's capital and reserves increased to D3.45 billion in June 2014, or 16.2 per cent from June 2013, while total assets also increased markedly, said Governor Colley in his recent presentation of the Bank's Monetary Policy Committee report for the last three months, covering May through July 2014.
Deposit liabilities grew, which is a mark of good business in financial intermediation, whilst the industry also recorded handsome growth in net income.
Both return on assets and return on equity were said to grow remarkably by the CBG Governor, who added that yields in all the maturities in respect of Treasury bills also grew. The weighted average interbank rate as well increased, which all together accounted for the sound performance of the industry over the year.
However, gross loans and advances, as well as private sector credit, decreased, while Non-performing loans (NPL), which is near bad debts, increased over the same period. 
"The banking sector remains fundamentally sound," Governor Colley said, adding that recent data indicate that capital and reserves increased to D3.45 billion in June 2014, or 16.2 per cent from June 2013. 
The risk-weighted capital adequacy ratio, the CBG governor said, averaged 35.1 per cent, higher than the minimum requirement of 10.0 per cent.  "All the banks met the capital adequacy requirement," he added, saying that total assets increased to D25.57 billion, or 14.2 per cent from a year earlier.
He however noted: "Gross loans and advances, which accounted for 23.4 per cent of total assets, decreased to D5.97 billion, or 2.3 per cent from June 2013. Private sector credit, net of provisions declined from D4.42 billion in June 2013 to D4.09 billion in June 2014.
"The non-performing loans (NPL) ratio increased from 11.3 per cent in June 2013 to 16.0 percent in June 2014."
Governor Colley also said that deposit liabilities totaled D15.15 billion in June 2014, higher than the D14.28 billion in June 2013.
"The industry recorded a net income of D197.0 million in the first six months of 2014 compared to D80.6 million in the corresponding period in 2013," he said, adding: "The return on assets was 3.3 per cent and return on equity 21.3 per cent compared to 1.7 per cent and 10.8 per cent respectively in the first half of 2013."
Domestic debt zooms to D14.7 billion
According to the CBG governor, domestic debt, which is largely sourced from local commercial banks, rose to over D14 billion.
Said Governor Colley: 'In the year to end-June 2014, the domestic debt rose to D14.7 billion, or 29.3 per cent from a year earlier.  Treasury bills and Sukuk-Al Salaam bills, accounting for 82.4 per cent and 4.0 per cent of the domestic debt stock, increased by 36.1 per cent and 50.1 per cent respectively.
"Yields in all the maturities rose reflecting in the main the tight monetary policy stance.  The yield on the 91-day, 182-day and 364-day bills increased from 12.40 per cent, 13.44 per cent and 14.54 per cent in June 2013 to 14.31 per cent, 15.95 per cent and 18.12 per cent respectively in June 2014.
"The weighted average interbank rate also increased from 10.45 per cent in June 2013 to 14.54 percent in June 2014."
Read Other Articles In Article (Archive)