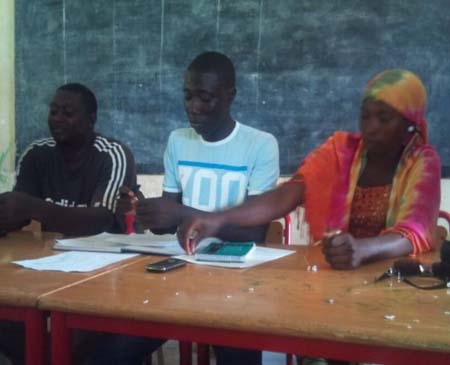 Gunjur Youth and Sports Development Association (GYSDA) Sunday held its annual general congress at the Gunjur Day Care Centre.
The annual general congress brought together all the teams affiliated with GYSDA for the daylong event.
Speaking at the congress, the public relations officer, Gunjur Village Development Committee, Lamin Barrow, urged the teams to respect the committee, adding that the committee should be transparent and accountable.
Barrow added that Gunjur is one and people are inter-related and challenged the teams to collaborate with the committee to promote and develop football in Gunjur.
He called for unity and understanding among the committee and teams to realize their aspiration.
The assistant secretary general of GYSDA, Ousman Jammeh, said congress is constitutional requirement before the start of the summer biggest football gala better known as Nawettan, adding that GYSDA registered 16 teams for the 2013-2014 Gunjur Nawettan 46 games were played in the league and 28 games played in the knockout and has experienced minor trouble during the nawettan.
Jammeh lamented that Steve Biko FC have won the league, while the debutants Alex Sanchaba FC clinched the knockout competition and Gunjur did not take part in the 2013-2014 due to financial constraints.
Jammeh further lamented that Gunjur took part in the 2013 Super Nawettan zonal football tournament and made promising start to the championship following their 1-all with eventual champions Serrekunda West in their opening group and drew goalless with Brikama in their game but hopes dashed when they lost to Manjai 1-0 in their third game and drew goalless with Brufut in their fourth game before losing Sukuta 3-1 in their group game.
Jammeh added that Gunjur United had participated in the 2013 West Coast region third division qualifiers but lost to Jambanjelly United, noting that the team also took part in the 2014 West Coast Regional third league where they played ten games, won six, drew two and lost two and finished runners-up with 20 points in ten games three points behind league champions, Jambanjelly United, who have bagged 23 points in ten games and the team is expected to receive D30, 000 as the runners-up but the committee is yet to receive the money from the West Coast Regional Football Association.
Jammeh further added that GYSDA, in collaboration with Gunjur Athletics Association (GAA), organized an athletics competition to raise fund for Gunjur zonal team in the annual super nawettan zonal football tournament in which Gunjur Radio Jannehkoto FC were crowned champions after snatching 251 points, followed by Sandali Oil and Trading Company Limited in second position with 242 points, while Food Step Ecko Lodge came third position with 214 points.
Jammeh stated that GYSDA were able to realize some funds for the team's participation in the tournament and GYSDA also in conjunction with Wilson promotion, organised wrestling contest to raise fund for Gunjur United's participation in the 2014 West Coast Regional third division league.
Jammeh further stated that GYSDA received donations and pledged from Gunjurians for the 2013 Super Nawettan zonal football tournament, saying GYSDA received D20,000 from Ousman Darboe of Unity Express, D1,000 from Lamin King Colley, T. Shirts from Kombo Real Estate and Green Vision.
Jammeh hailed Ousman Darboe of Unity Express, Gunjur Radio Jannehkoto FM, Green Vision, Kombo Real Estate, Security, the Gambia Referees Association, Gunjur Red Cross, Lamin King Colley and all those who patronized GYSDA last season for their valuable support.
Read Other Articles In Article (Archive)