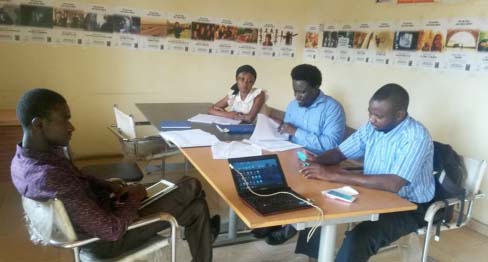 The Gambia chapter of the Global Youth Innovation Network(GYIN) in partnership with the Youth Empowerment Project (YEP) on Tuesday began a three-month extensive youth mentorship programme on entrepreneurship at the Jenoi Agricultural farmers training centre in LRR.

This comes a day after a successful national youth summer camp on entrepreneurship, leadership and information technology ELIT 2017.
The mentorship programme aims to enhance the capacity of 25 youth entrepreneurs by providing mentoring services on specific thematic issues.
According to them, this would serve as foundation for entrepreneurship spirit and its sustenance as well as to facilitate the process of individual business formalisation, networking and possible strategic leadership provision with a view to helping and supporting young people to establish sustainable investments.
According to the project manager of GYIN Gambia, Ebrima Bah, his organisation since its exception has successfully trained over 192 youths across the country on various skills from entrepreneurship, leadership and IT.
"So we designed this programme to help them, to coach them, and create mentorship for them to be able to implement what they have learned. Some of them have already established their own ventures, those who had business ventures due to our earlier trainings are now thinking of how to expand on their ventures," he said.
Bah expressed optimism that the mentorship programme would help young entrepreneurs become successful and self-reliant investors as they have already developed a mentorship hand book which explains the methodology to employ in implementing the programme.
"We think that with the right advice and right mentorship tools given to our trainees in various components, it will offer them a chance of greater success from where they are and where they wish to be," Bah remarked.
A senior education officer from the Regional Education Directorate in LRR, Musa Bah, commended GYIN Gambia for their efforts in championing youth empowerment and development in the country.
He said the youth are the cream of the nation constituting about 63.7 % of the population and therefore, deserve all the necessary support and guidance in becoming responsible members and ambassadors of the society and the country at large.
He advised the participants to take the mentorship programme seriously, saying all entrepreneurs have something in common; passion and love and urged them to redouble their efforts, willingness and dedication during the course of the 3-month mentorship.
Read Other Articles In Article (Archive)