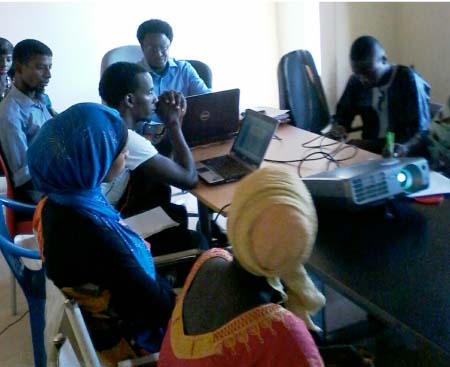 The national coordinator of the Global Youth Innovative Network Gambia chapter (GYIN – Gambia) has said the network is poised to promote economic empowerment of youth as a means of reducing poverty and preventing youth crimes.
Mamadou Edrisa Njie said the network is serving as an agent of positive change and its operations are in line with national youth policy and other national laws as well as regional and international laws promoting the welfare of young people.
Speaking at the orientation of the second batch of new GYIN members (GYINers) on Monday at GYIN Gambia secretariat in Churchill's Town, Mr Njie said the general objective of GYIN- Gambia is to create and support an enabling environment under which young people in the country can act on their own behalf and on their own terms.
The network also seeks to facilitate exchange of experiences, learning and networking for young entrepreneurs.
He said the orientation is for new members to understand what GYIN is all about so that they can serve as good ambassadors and be able to adequately represent the network nationally and internationally.
Mr Njie told the new GYINers that GYIN- Gambia is legitimate national representation and chapter of the GYIN International which is headquartered in Washington DC, United States of America.
The network is a charitable organisation and it is not affiliated to any political or religious organisation.It is youth-led initiative, entirely run and managed by young people with strategic support from the mother GYIN and other partners.
The national coordinator said there are different categories of membership of the organisation.There is active, general, founding, honorary/associate membership based on the level of contribution, support, commitment and dedication to the network.
He said membership is open to young people in the country within the age limit of 18 -35.Mr Njie pointed out that the network is guided and function based on values such as accountability, trust and respect.
He said the vision of the network is to create an enabling space where young women and men can channel their creativeness and potentials in transforming communities through self-sustaining socio-economic and cultural opportunities.
The GYIN-Gambia aims to contribute to the reduction of poverty among poor rural youth through exposure to opportunities and business prospects, innovation, and knowledge on replicable models of successful youth income generating ventures.
Mr Njie said the network supports youth in the areas of innovation, agribusiness, leadership and entrepreneurship through capacity enhancement, networking, coaching, mentoring, volunteering and service learning.
He added that they are currently sponsoring some students to attend classes.
Mariam Saine, financial controller, GYIN-Gambia, said the organisation is serving as a platform for capacity building of youth to help them make a better life.
She also explained that meetings are organised every fortnight to help members further understand the aims, objectives, vision and mission of the network with a view to enhancing effective participation.
Written by Fatou Colley
Read Other Articles In Article (Archive)