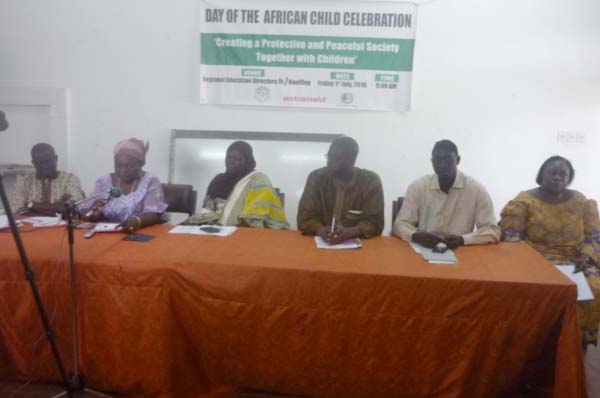 The Gambia Teachers' Union (GTU) in partnership with Child Protection Alliance (CPA) on Friday organised a symposium in commemoration of the Day of the African Child.

The event, on the theme 'Creating a protective and peaceful society together with children', was funded by ActionAid International The Gambia and held at the Regional Education Directorate for Region 1.
Speaking on the occasion, Omar Badjie, executive director of ActionAid The Gambia, said the commemoration is significant for it served as a platform to honour those who participated in the Soweto Uprising where over 100 students were killed, unjustly.
The day also allows for an internal reflection on the plight of children in Africa and the national commitments, he said.
Countries like The Gambia that are signatories to major international legal instruments like CRC, ACRWC and CEDAW have taken the commitment to provide an enabling environment where all children grow to their full potentials.
Mr Badjie pointed out that though the state is the primary duty bearer and protector of children, it is the collective responsibilities of all stakeholders to effectively participate in ensuring that the right environment is provided for the children.
ActionAid has a vision of a world without poverty and injustice in which every person enjoys their right to a life of dignity. Its mission is to work with the poor and excluded people to eradicate poverty and injustice.
Badjie said the vision and mission of the organisation requires it to take a human rights-based approach to development (HRBA) with emphasis on building partnerships with key development players in programme formulation and implementation.
The HRBA programme focuses on empowering people and their organisations to advocate for their rights to be met by various duty bearers.
"Children in Africa, The Gambia included are among the poorest, most excluded and vulnerable people," Mr Badjie said.
"Children's ideas and contributions to decision making, be it at the family, community or national level, are not considered important and useful enough to be included in plans. As a result, children's priorities and needs are consistently left out of the development process thus making them even more vulnerable and prone to abuse."
ActionAid boss called on all parents, teachers and other primary duty bearers to pay special attention to the needs and aspirations of children. They (children) should be encouraged to be forthcoming in expressing themselves to contribute in their own little way to the development processes at different levels.
In the same vein, he continued, government, CSOs, CBOs and other institutions are expected to provide needed support to parents and teachers for them to adequately fulfil their duties and obligation to the children.
Badjie pointed out that The Gambia government should be commended for ratifying and enacting legal frameworks that protect children.
He noted that the enactment of the Children's Act 2005, the Tourism Offensive Act, the Criminal Code, the Trafficking in Person's Act 2007, and the Women's Act 2010, all avail the opportunity for litigation to any perpetrators.
He further continued: "However, we as a key duty bearer must ensure we play our part in enforcement of these frameworks. As a country, we have very good laws that can ensure protection and peaceful environment for children.
"The existence of legal frameworks provides opportunities that give children the best possible start in life. They can also be used for our individual national and international advocacy and setting development agenda.
"As a country, we are aware of the constraints and challenges in child protection among which includes abuse and exploitation of children especially on sex tourism, trafficking in person, early and forced marriage, corporal punishment and FGM.
"These challenges and constraints can be tarnishing but we stand together in ensuring that we overcome them for the future of this country.
"If we allow our children to grow up in this kind of environment, we will have generations of undesirable adults who will not be capable of taking the development process of this county forward.
"It is therefore, incumbent on everyone in position of trust and responsibility, not to accept or condone any form of abuse of innocent children. Respecting, promoting, protecting and fulfilling the rights of children imply protecting our future leaders needed for socio-economic and political development of our country."
Flodiana Cole, Region 1 Director, said children themselves have a stake in the whole business of creating a protective and peaceful society for all to live in – old and young.
She said: "Children must understand that they are not bystanders or passengers in creating peaceful societies, but are vital partakers and partners in the whole venture.
"Even in their present situation, children need to know that they have roles and responsibilities to undertake and perform in safeguarding protective and peaceful societies for all."
"Often time children only think about claiming their rights with all sorts of demands and misdemeanours, forgetting that they have responsibilities as well to be deserving of those rights."
Njundu Drammeh, national coordinator of Child Protection Alliance, said it is important for everyone to ensure that the rights of children are respected, protected and fulfilled for "that is the only way we can have a peaceful society".
"A society where rights are violated with impunity cannot be called a peaceful society," he said.
"Children learn what they see in homes, schools and environment and if there is violent in these places they will learn it and become violent people."
Read Other Articles In Article (Archive)