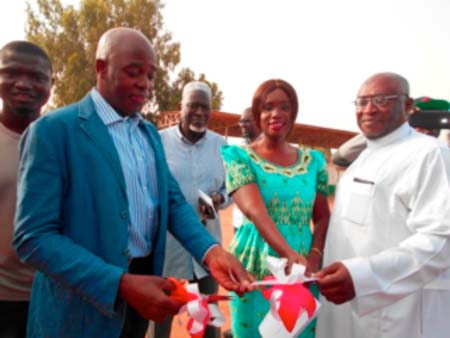 The Gambia Transport Service Company (GTSC) Sunday launched a unique international Service called Gambia-Bissau Express.

The Gambia-Bissau will be leaving Kanifing at 9a.m for a non-stop journey to Guinea-Bissau three days a week.
The transport fare is five hundred dalasis equivalent to six thousand CFA.
Speaking at the launching ceremony held at their Depot in Kanifing, board chairperson of GTSC, Muhammed Manjang, said this was the first time he had had an opportunity to interact with GTSC management.
This was also GTSC second service, which is part of a regional expansion strategy after the Banjul-Conakry service.
The fulfillment of those activities witnessed the launching of Banjul-Bissau service, which hopefully would be another successful service, given the success that GTSC had achieved in Koundara in Guinea Conakry.
For his part, GTSC general manager Habib Drammeh said the launching of the Banjul-Bissau express was a journey that GTSC started last year as part of its regional expansion drive.
"We felt that the long-term sustainability of GTSC will rest on our abilities to be able to operate outside The Gambia," he said.
This was part of GTSC's regional localisation of their services to ensure that they learn from the former company called GPTC.
Mr Drammeh said: "We ensilage that the Bissau service will do similar operation, though it is a difficult start with our counterpart in Bissau. We made several trips and the first trip culminated in this success."
He said GTSC would have the opportunity to serve the people of Guinea-Bissau to develop The Gambia with better busses that are reliable and comfortable.
Mr Drammeh thanked everyone that participated in ensuring that the launching became a reality from the project management office to the chief engineer, traffic department, marketing, human resources among others.
The transport fare from GTSC Depot Kanifing The Gambia to Guinea Bissau is five hundred dalasis (D500), equivalent to six thousand CFA (6,000 CFA).
The bus also comprises luxury couch with 44 seaters, air conditioners, fans, refreshments, in-bus entertainment among other facilities.
Read Other Articles In Article (Archive)