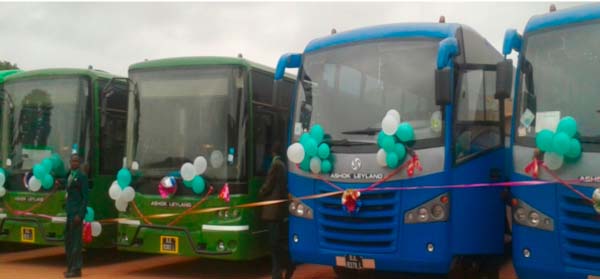 The Gambia Transport Service Company (GTSC) yesterday launched 15 new Ashok Leyland buses, at a ceremony held at the company's depot in Kanifing.

Speaking at the launching ceremony, the acting General Manager of GTSC, Habib Drammeh, said the role GTSC had been playing in national development could not be overemphasised.
"There is no economy that can be sustained without transportation," he said.
He said transportation is like the artery through which blood flows and, therefore, is the artery to which people move from one place to another.
He thanked the management of Social Security and Housing Finance Corporation (SSHFC) and GTSC for their tireless effort towards the "laudable" venture, adding that GTSC aims to become the leading road transport company in the sub-region.
Mr Drammeh disclosed that they would also venture into river transportation, "because it is a very important sector in terms of transportation of goods and services."
Also speaking at the launching ceremony was the GTSC Board Chairman, Edward Graham, who said three years ago the depot was "like a scrap yard where people go get scraps and electrical wires and to cannibalize old vehicles."
He also said three years ago, when people want to travel from Brikama to Banjul they used to pay fares three times, which was difficulty for business, and that always impacted negatively on economic growth. But now with GTSC everything was different, he added.
"Transportation is key to any economic development, and in three years of operations this company has employed over 400 Gambians and it has facilitated the movement of goods, people and factors of production across the country."
This, he added, had impacted positively on the nation, and the socio- economic development of the country had improved because of "improvement in the transportation system". It had also revived petty businesses along the line, he continued
The company's aim is to become the leading road transportation system in the sub-region, adding that there are bound to be tough challenges, but challenges could be met depending on the planning and strategies to be used to overcome them.
Zakariah Sowe, head of Traffic Operations, also indicated that the main objective of GTSC is to ensure that the travel needs of its customers are met in the most affordable and convenient manner.
He added that the company would continue to expand its services to meet the needs and requirements of its prestige customers.
The buses are fitted with modern facilities, and "these ones are specifically designed for the Gambian market, local climatic condition, social norms and technical specifications," required for the sub-region.
The company had also launched a hotline number: 2366703 to answer customers' enquiries twenty-four hours a day.
Read Other Articles In Article (Archive)