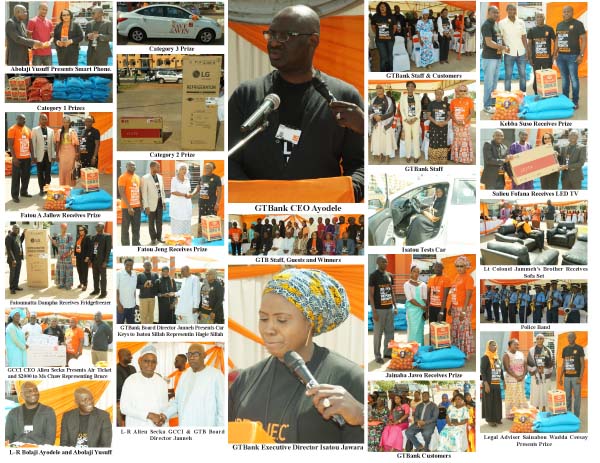 Guaranty Trust Bank Gambia Limited on Friday, 17 Feb 2017, completed the actualisation of its promise of giving out valuable prizes to winners of its Save and Win Deposit Mobilisation campaign launched in April last year.

The bank's grand draw and final presentation of prizes to winners of the deposit mobilization campaign held at its Senegambia branch saw 16 lucky customers take home substantive prizes, such as a Hyundai Accent car, an air ticket to Dubai with $2,000 travelling allowance and a sitting room sofa settee.
The Hyundai Accent car was won by Hajie Sillah, the air ticket for Dubai trip and $2,000 went to Francis C. Bruce and the sitting room sofa settee went to Lieutenant Colonel Musa Jammeh.
"I would take the opportunity to congratulate all the winners for their achievements as well as to encourage customers who have not won not to lose hope, for as long as they remain with us they stand a chance to win bigger and better prizes," said GTBank MD/CEO Bolaji Ayodele.
MD Ayodele also used the opportunity to congratulate Gambians for the 52nd Independence Anniversary and the Inauguration of His Excellency President Adama Barrow and did pray that "God continues to protect The Gambia and guide our leaders as they lead us in peace, progress and greater prosperity".
In this final quarter draw 16 customers won various prizes. Out of these, 10 customers each of whom went home with 2 bags of rice, a bag of onion and a 20-litre gallon vegetable cooking oil.
Furthermore, one customer went home with a fridge freezer, one with a 32-inch LED TV and another went home with a smart phone.
The grand draw and prizes of Hyundai Accent Car, Return Ticket to Dubai and $2,000, and Sitting room Sofa Settee, were won by Hajie Sillah, Francis C. Bruce and Musa M. Jammeh.
When GTBank launched its Save and Win promo last April, it promised customers that if they maintained certain amount of balances in their accounts every 3 months, they would stand the chance to win various prizes every quarter of the year.
GTBank's Chairperson of the Save and Win Promotion Committee, Isatou Jawara, said in her statement on the occasion that in July and in October, each of 10 customers among those with deposit balances of D10,000 to D50,000 won 2 bags of rice, one gallon of vegetable oil and one bag of onion.
Each of three customers among those who maintained more than D50,000 balances in their GTBank accounts for 3 months won a fridge freezer, a 32-inch LED TV and a Smart Phone, she explained.
The final draw and presentation, held on Friday, covered customers of the above-mentioned categories, and the third category for only customers that maintained balances of D500,000 or more into their GTBank Accounts for more than three months attracted the Hyundai Accent car, the Return Ticket to Dubai for one plus pocket money of $2,000, and the complete luxury sitting room sofa set.
Mrs Jawara added that the GTBank Save and Win Promotion was aimed at awarding their customers quarterly as well as encouraging them to exercise the habit of saving.
She also said: "I wish to bring to your notice that the Management of GTBank and the Save and Win Promotion Committee under the leadership of the Managing Director, Bolaji Ayodele, have again decided to continue with the "Save and Win promotion" in 2017.
Prizes for this year's promotion, she revealed, are:
Category one: 10 customers will each win 2 bags of rice; 1 bag of onion, 1 bag of 25kg sugar and a gallon of 20-litre vegetable oil. Category two: the prizes are a motorbike, fridge freezer and 32-inch LED TV set.
The grand prizes for the 3rd category are a complete bedroom set for the third winner, return ticket to Dubai for one person and pocket money of $2,000 for the second winner and Hyundai Twoso 4-wheel drive for the first winner (D200,000).
She thanked all the customers for their support and patronage of the bank.
GTBank CEO Bolaji Ayodele also used the opportunity to renew the bank's promise to customers that they would endeavour at all times to go the extra mile in satisfying customers' banking needs.
"As the Chief Marketing Officer of the Bank, this serves as a good opportunity for me to remind you all of our bouquet of products and services," he said.
"Our verve debit card enables you to withdraw cash from any of our ATMs across the country. You can also buy cash-power and mobile phone credit on our ATMs plus conduct many other services with it."
He added: "Last year we introduced the fast track service in the market for those of you who carry debit cards of any bank. This service allows you to walk into our banking halls and use our POS Terminals to quickly withdraw cash, without staying on a queue.
"School owners are also encouraged to try our school fees collection scheme. This is an automated system that allows parents to pay school fees into the schools account with the bank."
MD Ayodele thanked their customers for believing in the bank, saying: "Your loyalty and trust is what has kept us going. Thank you all for your kind attention."
Although some of the GTBank lucky winners were not present to receive their prizes, their representatives expressed, on their behalf, how happy and elated they were to have won the valuable prizes of the bank.
Isatou Chaw, who received the $2,000 and return ticket to Dubai on behalf of her brother, said: "I am so happy to win this prize of an air ticket to Dubai. I thank Guaranty Trust Bank for the prize."
Isatou Sillah, who represented Hajie Sillah, winner of the Hyundai car, said GTBank is a "responsible and reliable bank" they would continue to bank with. "We pray for them to have more customers and continue to grow," she added.
Soulayman Jammeh, a brother to Lt Col Musa Jammeh, winner of the sitting room sofa settee, said: "This is good and we thank God for GTBank. We are very grateful. I would like to thank all the staff of GTBank, as I continue to bank with them."
Read Other Articles In Article (Archive)