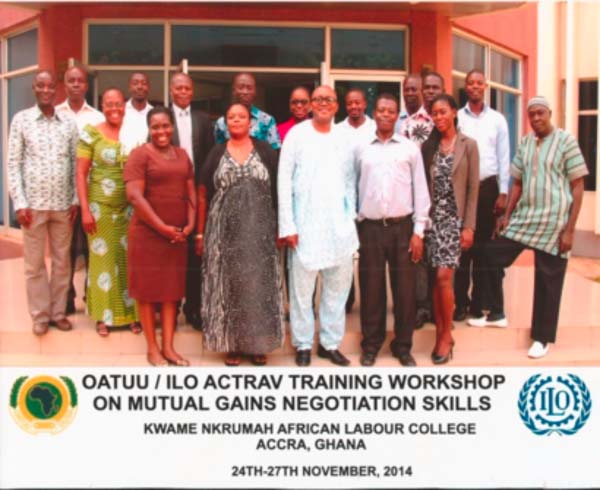 Ousman Drammeh, president of Gambia Transport Agriculture Food and Industrial Workers Union (GTAFIWU) recently returned from Ghana where he attended a training organised by the Organisation of African Trade Union Unity (OATUU) at the Kwame Nkrumah African Labour College.
Speaking in an interview with The Point shortly after his return, Mr Drammeh said the training was a success, stating that so many things have been learnt from the course.
He said one of the functions of trade unionism is about negotiating for workers with the management and technical capacity building, as it requires a union with strong and independent negotiating capacity.
The ILO introduced the new method of legislation referred to as mutual gain negotiation, he said, adding that the importance of social dialogue includes but not limited to consultation, negotiation with employers, and unions.
He said social dialogue takes into account each country for its cultural, historical, economic and political context.
The GTAFIWU president further explained that the OATUU is the umbrella body of all African trade union organisations and is about Pan-Africanized works with AU and ILO, which belongs to all African workers with the Kwame Nkuramah African Labour College.
In the interest-based bargaining, the union's focus is to ensure the interest of each side is addressed and mutual gain negotiated, he said.
According to Mr Drammeh, the Gambia Labour Congress shall organise a seminar to elaborate on the new methods of negotiation referred to as mutual gain bargaining or mutual negotiation with all other unions in The Gambia in collaboration with the Government and the ILO.
He thanked the Gambia Labour Congress for nominating him to attend such training at the OATUU Centre, Kwame Nkrumah African Labour College in Accra.
He also expressed regards and on behalf of the Gambia Labour Congress to the Secretary General of the OATUU, and ILO workers education director for enhancing his knowledge and skills in Trade Unionism in The Gambia.
Read Other Articles In Article (Archive)