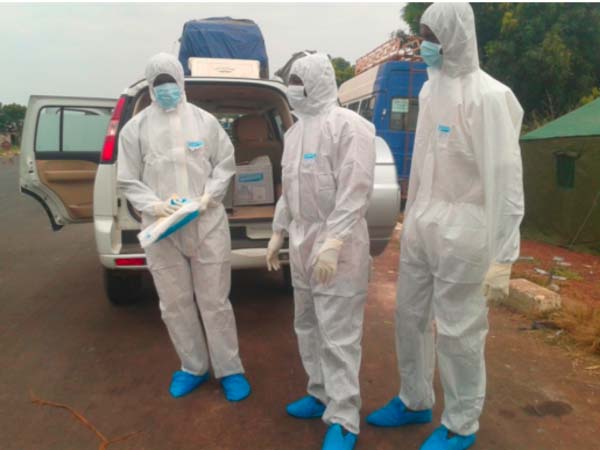 The Gambia Red Cross Society, GRCS, with partners from Senegal and Guinea Bissau on Saturday conducted a simulation exercise at the Giboroh border with the aim of testing the level of preparedness of Gambian health workers in Ebola prevention and the patient management system.
The activity started at the Giboroh border, where the exercise was done using Red Cross volunteers as Ebola-infected persons, as well as testing the screening process.
Speaking to journalists at the border, Sereign Modou Joof, the deputy Executive Director at the National Disaster Management Agency (NDMA), said the stimulation exercise was carried out under the leadership of the GRCS.
The objective of the activity was to look at the strength of some of the stakeholders as far as the Ebola response is concerned in The Gambia, he said.
They have given it an international character by inviting Senegal and Guinea Bissau, because all these countries are neighbours to Guinea Conakry, one of the Ebola-affected countries in West Africa, he added.
For the stimulation exercise, there were groups created such as for logistics in the form of vehicles to enhance the movement and operations to ensure that the victims are taken care of.
Sanna Sambou, the national coordinator for Ebola virus prevention in The Gambia, who also doubles as the head of disease control at the ministry of Health in Banjul, told journalists that the exercise was to ensure good coordination for Ebola preparedness.
He thanked the GRCS for their partnership, adding that their role was to manage dead bodies and also to ensure the safe handling of victims.
There are nine border posts in The Gambia and security and public health officers are stationed there for prevention purposes, as border closure is not recommended by World Health Organization.
Buba Darboe, acting programme manager and also head of disaster management and food security at the GRCS, said the simulation exercise looked at the preparedness level of The Gambia for the Ebola virus.
The scenario was developed to tell the state of preparedness of the country, particularly the health department and health facilities, in case of an Ebola outbreak
Ebola has no boundary, and the countries that took part are culturally and economically tied together, which was the reason for their participation, Darboe added.
Read Other Articles In Article (Archive)