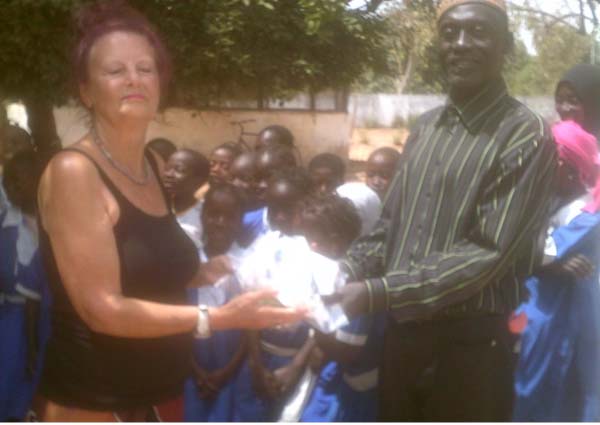 Association for the Support of Grassroots Communities Wednesday donated secondhand clothes, first aid boxes and reading glass for teachers at Kafuta Lower Basic School in Kombo East District of West Coast Region.
Speaking at a brief presentation ceremony held on the school premises, Saloum Sheriff Janko, president of the association, said the donated materials were facilitated by a British friend, Linda Wonnacott, and her family and partners in the United Kingdom.
"We are always happy to share our resources with the less privileged people of the society, especially orphans and vulnerable children at schools," he said.
Mr Janko reaffirmed his organisation's commitment and resolve to complement the government's effort in attaining relevant and quality education for all.
He further expressed their determination to work hand-in-glove with the government in "their gigantic steps of women and children empowerment".
Receiving the donation, the deputy headmaster of Kafuta LBS, Mr Gibril Kujabi, thanked the organisation and their partners for "the kind gesture".
He said the donation was "timely" and promised that "the items will be put into good use".
Mr Kujabi also appealed for more support to renovate the school, and build a library and more school toilets.
"We have only two toilet facilities for the girls and two for the boys, which are not enough for us," he said.
According to Mr Kujabi, during the rainy season they encounter a lot of trouble because children cannot have effective classes when it is raining since "the roof leaks seriously".
The Alkalo of Kafuta village, Kata Bojang, also thanked the association for its contribution to the school.
"As the deputy headmaster said in his statement, there is need for more support to the school to improve on the quality of teaching and learning," he said.
Linda Wonnocott, the donor and a member of grassroots organisation, said the donated items were meant to support children of The Gambia to pursue quality education and maintain good health.
Association for the Support of Grassroots Communities is a non-profit organisation established to support women and children in the areas of health, education, environment and agriculture.
The organisation has been embarking on community-based initiatives to improve basic education, gender equality and women empowerment, as well as to end gender-based violence.
Read Other Articles In Article (Archive)