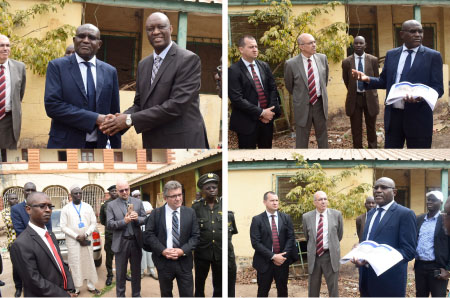 Commissioner General of Gambia Revenue Authority (GRA) has said that his office will continue to expand its infrastructural development initiative to improve the working conditions of staff and their residential housing.

Yankuba Darboe said the welfare of his staff will always be a priority to enhance effective and efficient service delivery for national development.
Speaking on Wednesday at the handing over of the GRA old site building to GAMWORKS for the construction of two story -buildings meant for office space and residential housing, Commissioner General Darboe expressed hope that GAMWORKS will construct a convenient office space and residential housing.
He said the handing over of the site to Gamworks for the construction of the building is yet another development in the history calendar of GRA because the institutions is growing and expanding which required them to provide convenient staff quarters for effective service delivery.
"This is what prompted the management to identify one of the old buildings for re-construction as office space and for staff quarters. The idea was supported by the board of directors and staff to ensure effective and convenient working conditions," he said.
According to him, eleven months period is given to complete the project, expressing hope that the building will be inaugurated in the most appropriate time.
"GRA will not only stop at only this project but as part of our five years plan, we intend to construct office spaces and staff quarters in all the regions across the country. Among our plans is moving GRA to West Coast Region, where we will have an office."
According to him, all these targets cannot be attained in one year that is why they are doing it gradually as it involves lot of resources and finance. "We will do everything humanly possible to expand our offices for staff."
He commended GAMWORKS management for their long standing relationship with the authority.
Deputy Commissioner General and head of domestic tax, Essa Jallow said the project is geared towards improving the authority's infrastructural development, saying it will motivate their staff to do more.
According to him, the Authority's staff population has been increasing and there is need for office expansion. "This is a five years project and there are many other projects that are in the offing. We cannot implement all of them at the same time because they are capital intensive projects," he said.
According to him, the money required for the project cannot be raised in one year but expressed hope that the project will be ready for inauguration in the next eleven months.
Read Other Articles In Article (Archive)