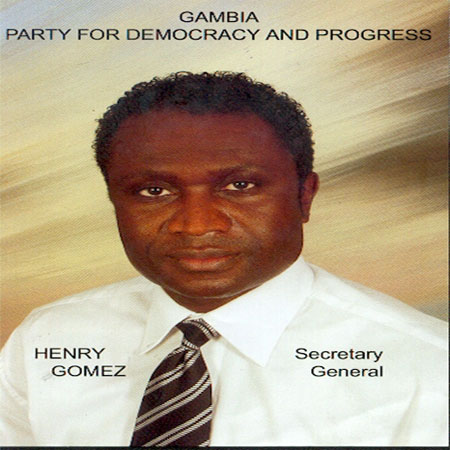 As the race for 2011 presidential election inches closer, Henry Gomez, leader of the opposition Gambia's Party for Democracy and Progress (GPDP) has called for change in the political landscape of the country, noting that the time has come to make decisions that will shape and change our vision.
Speaking in a brief interview with our reporter over the weekend, Gomez said that such decisions will either make them as political party leader's great people or people to be blamed for failure.
"The greatness of a nation is not by its size, but by the decisions, proposals or vision of its people. This is a principle that the Gambia Party for Democracy and Progress is bound to initiate," Gomez told our reporter.
According to the GPDP leader, time has come when decisions are not about who one is, but whether one can serve the best interest of the people.
"It is a time not for a costs-incurring vision, but cost limiting vision. The time has come not to develop our environs, but the people who help maintain or pray for these developments. Time has also come for all those who believe and trust in democracy, freedom and social justice to take responsibilities of making change to achieve these qualities of humanity," Gomez, who is also the Secretary General of the party, opined.
He added: "Gone are the days of anarchy, dictatorship, structure or conditional undemocratic practices which deprive people of freedom and social injustice. It is when we sit back and do nothing that we will be blamed by history. History has to reward us for the very noble decisions we make today."
"Let the wind of change that has swept failed ideas, bear witness that we as a great nation have recorded and re-directed our vision, hopes and aspirations. Let us reason and understand that we are not an entity in global development. The time has come to be objective and not subjective," he further stated.
He called on people to discover and manifest the discipline of terminal power, and not permanent power.
Gomez also urged people to come together as one, ready for change and make change a reality. "Ideas are necessary to shape our vision as they are our proposal," he noted.
Gomez, who was denied the opportunity to contest the 2006 presidential election, is confident that Gambians can make change a reality.
Read Other Articles In Article (Archive)