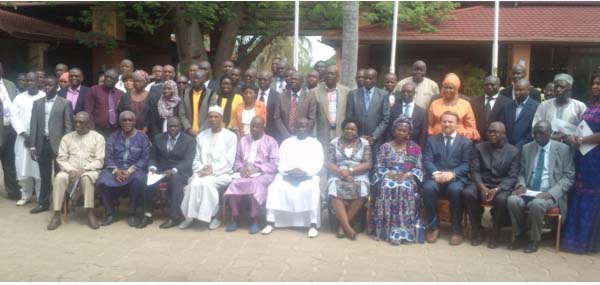 The Ministry of Petroleum, in partnership with the National Water and Electricity Company, yesterday began a two-day donor conference to validate an electricity sector roadmap for The Gambia.

The roadmap has short and medium term plans to solve the current electricity shortage in the country and achieve the government's vision in the energy sector.
Speaking at the conference held at the Kairaba Hotel, the Minister of Petroleum Fafa Sanyang said the government is committed to providing affordable and sustainable energy supply to the entire citizenry of the country as stated in the National Energy Policy and other development blueprints.
He said the primary focus of the roadmap is to provide a Least Cost Power Development Plan (LCPDP) that will determine investment required in power generations, transmission and distribution and restructuring NAWEC into a financially viable enterprise.
The minister said the roadmap will stand as a platform for stakeholders, government, and international community with a reference point to guide decision-making in the electricity sector.
Hon. Sanyang said the first phase of the roadmap aims to minimise disruption and blackouts in the Greater Banjul Area by providing at least 70mw by the end of 2017.
The second phase, 2018 – 2020, is to close the generation gap and investment in electricity transmission and distribution as well as commission the first Independent Power Producers. The third phase, Sanyang said, aims to scale generation to 250mw to expand access.
The minister said more than $500 million needs to be invested in the energy sector from now on to 2025 of which $189 million is expected from the private sector through IPPs generation infrastructure, and $334 million from the public sector and $157 million is already in the pipeline living a gap for T&D and access.
Baba Fatajo, managing director of NAWEC, said the energy sector roadmap "is a milestone" for the energy sector as it will play a crucial role in the socio economic development of the nation.
"The electricity sub sector has experience and continues to face tremendous challenges that require solutions," he said. "The roadmap will help NAWEC create solutions to the power supply situation for sustainable development."
The NAWEC MD said the roadmap would minimise disruption by closing generation gap, improve investment in the transmission and distribution of network, introduction of mix energy, promotion of private sector participation, access expansions, tapping regional synergies such as (OMVG) and loss reduction Gambia resent development in the political and governance arena has succeeded in drawing the positive consideration international community.
Dawda Fadera, secretary general and head of the civil service, said the roadmap will transform and modernise the country's energy sector.
"The energy sector situation makes it difficult and expensive for value added production and businesses to effectively operate in The Gambia.
Read Other Articles In Article (Archive)