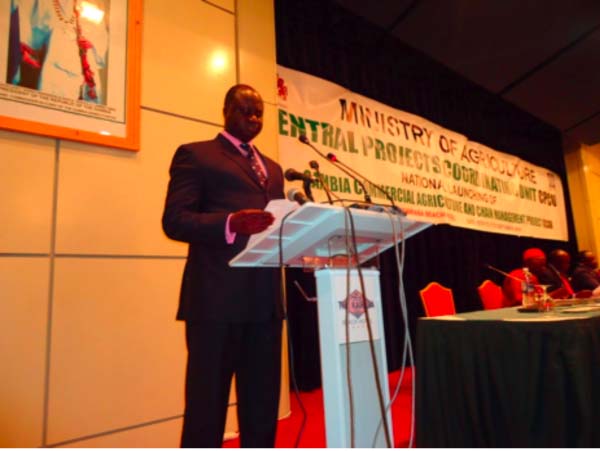 The permanent secretary at the Ministry of Agriculture in Banjul, Ebrima Jawara, has disclosed that the government "in its drive to ensure accountability and effective utilization of public funds," recently established a committee under the Office of the President, mandated to monitor and evaluate projects under the Ministry of Agriculture.
This committee, he explained, would work with the central project coordination unit and their donor partners to ensure that the government's development agenda is met and even exceeded, resulting in tangible impacts on the target beneficiaries and the nation as a whole.
PS Jawara was speaking during the national launching of the Gambia Commercial Agriculture and Value Chain Management Project (GCAV) held on Tuesday at the Kairaba Beach Hotel.
According to Jawara, at a time when economic resources, particularly fiscal revenues, are scarcer than usual; in these circumstances, they have to rapidly assess the impact on the sector of any expenditure over which they have discretion.
He added that "where government funds are to be used, be it own funds, loans and or grants, it was most imperative that the backdrop of the needs to be met in the sector is well understood, since public funds would be spent to meet those needs directly or indirectly."
On the GCAV, PS Jawara said the project came at a time when they are transforming the agricultural sector from traditional, subsistence farming, to a more modern commercial agriculture in line with Vision 2016.
The central projects coordinating unit of the Ministry of Agriculture would manage the day-to-day implementation of the GCAVC project, through public and private service providers on the basis of agreed annual work plans and budgets and SMART deliverables, he further stated.
The Gambia has made great strides since the advent of the July 22nd Revolution, particularly in increasing farmers, access to productive technologies, according to Jawara.
"Yet, these advances are necessary, but not sufficient to achieve the goal of food self-sufficiency, especially in light of unpredictable and adverse weather and climatic conditions."
He asserted that the GCAV with its focus on irrigation both for rice and other crops would help mitigate some of the adverse effects of nature.
He thanked the World Bank and other development partners for their timely and valuable support in the realization of the national objectives. 
Read Other Articles In Article (Archive)